Wiki Targeted (Entertainment)
Play Sound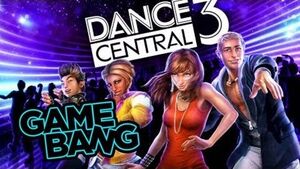 YOU CAN'T STOP THE MOTION is the fortieth installment for the Smosh Games series Smosh Game Bang.
It was uploaded on 21st June 2013 on smosh.com and on 28th June 2013 on YouTube.
Synopsis
The Smosh Games gang play Dance Central 3.
Punishment
The 2 lowest scoring people would once again have to dance together but this time wearing the dress of shame.
Turn order
Anthony: Lil' Jon & the East Side Boyz - Get Low
Lasercorn: Panjabi MC - Beware of the Boys (Mundian To Bach Ke)
Sohinki: Cali Swag District - Teach Me How to Dougie
Jovenshire: Backstreet Boys - Everybody (Backstreet's Back)
Mari: Vanilla Ice - Ice Ice Baby
Ian: Los Del Río - Macarena
Note: The song highlighted in bold indicates it was the one song everyone knew was in the hat.
Duet Dance: Kelly Clarkson - Stronger
Final Scores
1st place: Mari (1,090,505)
2nd place: Ian (810,773)
3rd place: Anthony (601,677)
4th place: Lasercorn (262,153)
5th place: Sohinki (229,283)
Last place: Jovenshire (154,412)
Trivia
This is the first time Sohinki has had to take part in a Dress of Shame punishment.
As of this episode, Lasercorn is the only one to not wear the dress of shame.