WHEN MEMES DIE is the third of the Smosh series Totally True Documentary. In this episode,
Released on June 20, 2018, the video was directed by Ryan Todd and written by Ian Hecox, Shayne Topp, Monica Vasandani. and Ryan Finnerty.
Description
We finally answer the age old question - what happens to a dank meme when it dies?
Synopsis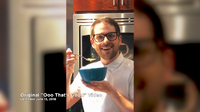 As explained in the opening, in this episode of Totally True Documentary, the crew explores the aftermath of the explosive popularity one receives after becoming a meme. The meme in question is Rodney Shelton (Ian Hecox), who is the "Ooh, that's good!" "meme guy". The clip featuring this quote is played, featuring Rodney taste-testing something in a spoon from a blue bowl, then turning to the camera to happily exclaim "Ooh, that's good!" Rodney explains the "crazy" story behind the meme: Rodney had wanted to try a soup but was unsure if it was too hot, so he had asked his friend to record the taste-testing if he needed to sue the company behind the soup. The soup, however, turned out to be perfect and he reacted naturally and the clip immediately went viral, prompting Rodney to leave his life in Wisconsin behind and move to Hollywood to pursue a career in show business. With him was the friend who recorded the video, Alex Preston (Shayne Topp), who mentions that he is writing an "Ooh, that's good!" movie.
Rodney changed the topic to merchandise, which they have been "killing". He shows off a shirt featuring a misprint of the phrase as "OOH That's God!" but once those sell out new shirts will be released with the correct spelling. Rodney asks Alex how many shirts have been sold so far, and is disappointed to learn that only four or five have been sold.
The documentary goes on to show where Rodney moved: an apartment complex Rodney dubbed the "Memepire State Building that he shares with approximately fifteen other meme stars who had moved to Los Angeles for similar reasons. He introduces another meme star, Maurice Jones (Keith Leak Jr.), the man behind the "Surprised Guy" meme. Maurice imitates his meme, spurring him and Rodney to burst out in laughter. They are asked to quiet down by Sven Smörboll (Josh Mattingly), who is working on a new caption. Rodney explains that Sven is an "ancient" meme known as "Scumbag Sven", who is from the time when Advice Animal memes were popular. Sven suddenly grabs his shoulder in pain as his arm starts to disappear, which he believes to be what happens when a meme fades from popularity. Not long after Sven disappears, Rodney sees that he is starting to fade as well. Rodney desperately asks Maurice how he can stay relevant. Maurice solemnly advices that Rodney does what he did: make a song with meenbabygurl (Olivia Sui), a nine-your-old Instagram star who became famous for being vulgar and flaunting her parents' wealth.
Rodney is reluctant; collaborating with meenbabygurl is the last thing he wants to do as he believes that anyone who would collaborate with meenbabygurl has no respect for themself or their fans... until he does just that. In the video, meenbabygurl yells about how she will "beat [haters'] asses" and brags about her wealth and ending each line with "and you ugly", followed by an unenthusiastic "Ooh, that's good!" from Rodney.
As Rodney is scrolling through the comments, someone offscreen asks if the collaboration helped. Rodney tearfully replies that it did not; all the comments asked who he was and/or insulted his appearance. Rodney concedes that he always knew he would one day become irrelevant, but not this soon. Rodney sadly places a box of mistyped shirts in the trash as a Christian (Noah Grossman) arrives in the hall and sees the phrase "Ooh, that's God!". The Christian is excited about the phrase and its potential to spread the word of God. He and Rodney sidehug.
Rodney would later make Christianity "cool again" as "Ooh, that's God!" became popular in the Christian community. He and the Christian would later collaborate with meenbabygurl again to make a song about the new phrase. At the end, Rodney admits that he should probably contact his family.
Outtakes
Rodney describes Los Angeles as the "land of all dreams" while awkwardly standing in a doorway.
Rodney shows off his picture of the Hollywood sign in a frame with the Hollywood sign.
Rodney plays with a basketball.
Rodney cleans up tissues and removing lotion from out of sight, denying what it implies.
meenbabygurl comparing her (vastly exaggerated) salary to that of her viewers.
meenbabygurl does not care about paper towels.
The water in meenbabygurl's mansion's plumbing is gold.
meenbabygurl's soap is soap.
Josh Mattingly tries to stay in character.
Shenanigans ensue during meenbabygurl's song.
Alex goes over who potentially bought the "Ooh, that's god!" shirts.
Credits
Cast
Cast is listed in order of appearance.
Crew
Director: Ryan Todd
Producers: Ryan Todd,

Alex Hluch

, Kristina Nikolic
Writers: Ian Hecox, Shayne Topp, Monica Vasandani, and Ryan Finnerty
Creative Director:

Luke Barats

Director of Photography:

Mitch Anderson

Editor:

Nick Agich

Senior Producer:

Alex Hluch

Producer: Kristina Nikolic
First Assistant Director: Tanner Risner
Production Manager:

Andy Garwig

Production Designer:

Jade Spiers

Camera: Brennan Iketani
1st AC:

Darren Kho

Gaffer:

Trent Turner

Key Grip:

Justin Thatcher

Sound Mixer:

Greg Jones

Makeup Artist:

Rachel Jenkins

Costume Designer:

Lindsay Hamilton

Script Supervisor:

Talia Brahms

DIT:

Matthew Duran

Production Assistant:

Kristin Sanchez

Art Assist:

Hope Steinman

Art Assist:

Kianna Bliven

Assistant Editor:

Matthew Duran

Post-Production Supervisor:

Reed Brice
Trivia