House of the Dragon Trailer - The Loop
Play Sound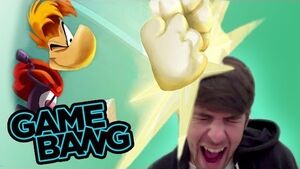 WE GET SOCK'D is the fifty-seventh installment of the Smosh Games series Smosh Game Bang.
It was uploaded on 18th October 2013 on smosh.com and on 25th October 2013 on YouTube.
Synopsis
The Smosh Games crew team up to play Soccer mode in Rayman Legends.
Punishment
Members from the losing team would have socks thrown at them.
Teams
Ian and Lasercorn (Iancorn)
Mari and Sohinki (Marhinki)
Anthony and Jovenshire (Jovanthony)
Matches
Round 1
Iancorn 4-3 Jovanthony
Marhinki 8-2 Jovanthony
Marhinki 4-1 Iancorn
Round 2
Jovanthony 4-6 Iancorn
Jovanthony 6-5 Marhinki (in overtime)
Iancorn 4-3 Marhinki (in overtime)
Results
Iancorn (3W/1L)
Marhinki (2W/2L)
Jovanthony (1W/3L)
Trivia
For the third time in Smosh Game Bang, the name of the episode was changed when uploaded on YouTube. On smosh.com it was released as "Sock-It Hard".
Anthony and Jovenshire's team name is usually Anthonyshire, but for this episode it has been changed to Jovanthony.
Throughout the video, there are references to the TV show Everybody Loves Raymond. This is due to the fact that when a lot of the gang say Rayman, it sounds like Raymond.
In this episode Jovenshire surpassed Mari for the most losses in Game Bang.
At the time this episode was uploaded, Lasercorn and Sohinki were tied for most wins.
This is the first time since Geometric Asteroids that Ian and Lasercorn have been partners.
The team arrangement for this episode was exactly the same as Giving Zombies Grief.