Wiki Targeted (Entertainment)
Play Sound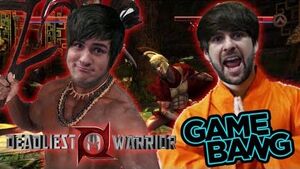 WE ARE NOT THE DEADLIEST WARRIORS is the forty-ninth installment in the Smosh Games series Smosh Game Bang.
It was uploaded on 23rd August 2013 on smosh.com and on 30th August 2013 on YouTube.
Synopsis
The Smosh Games crew have yet another fight to the death playing Deadliest Warriors.
Punishment
Any players that get less than three wins (the pretty pacifists) would be hit with pillows by players with three wins or more (the deadliest warriors)
Warriors used
Battles
Round 1
Lasercorn vs. Ian
Mari vs. Sohinki
Anthony vs. Ian
Round 2
Lasercorn vs. Jovenshire
Anthony vs. Sohinki
Mari vs. Jovenshire
Round 3
Sohinki vs. Ian
Mari vs. Lasercorn
Ian vs. Jovenshire
Round 4
Sohinki vs. Lasercorn
Anthony vs. Jovenshire
Mari vs. Ian
Round 5
Jovenshire vs. Sohinki
Lasercorn vs. Anthony
Mari vs. Anthony
Results
Winners: Lasercorn (5W, 0L), Ian (3W, 2L) and Jovenshire (3W, 2L)
Losers: Anthony (2W, 3L), Sohinki (2W, 3L) and Mari (0W, 5L)
Trivia
In this episode Mari overtook Jovenshire for most losses.
A little fun fact that the 3 winners were the original condor team while the 3 losers were the super condor team. 
Mari stated that she hated this game.
The only matches that actually happened similar to the TV series of the game are the Spartan Vs. Ninja and Spartan Vs. Samurai

Coincidentally, the Spartan won against both the Ninja and the Samurai similar to his outcomes in the TV show.