Wiki Targeted (Entertainment)
Play Sound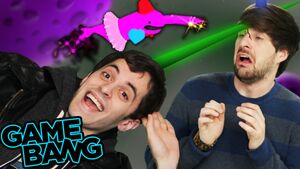 WE ARE HORNY WHALES is the ninety-ninth installment of the Smosh Games series Smosh Game Bang.
It was uploaded on August 15, 2014 on both smosh.com and YouTube.
Synopsis
The Smosh Games crew battle it out playing Starwhal: Just the Tip.
Punishment
The two lowest scoring players will have to battle as Narwhals in real life (wearing women's t-shirts with foam tubes stuffed down the back).
Battles
1st place: 4 points, 2nd place: 3 points, 3rd place: 2 points, 4th place: 1 point
Round 1
Players
Lasercorn, Ian, Sohinki and Anthony
Scores
Sohinki
Ian
Lasercorn
Anthony
Round 2
Players
Ian, Sohinki, Anthony and Mari
Scores
Anthony
Mari
Ian
Sohinki
Round 3
Players
Sohinki, Anthony, Mari and Jovenshire
Scores
Anthony
Sohinki
Mari
Jovenshire
Round 4
Players
Anthony, Mari, Jovenshire and Lasercorn
Scores
Jovenshire
Anthony
Lasercorn
Mari
Round 5
Players
Mari, Jovenshire, Lasercorn and Ian
Scores
Ian
Lasercorn
Jovenshire
Mari
Final Round
Players
Jovenshire, Lasercorn, Ian and Sohinki
Scores
Lasercorn
Jovenshire
Ian
Sohinki
Scores
1st place: Anthony (12 pts)
=2nd place: Lasercorn (11 pts)
=2nd place: Ian (11 pts)
4th place: Jovenshire (10 pts)
5th place: Sohinki (9 pts)
Last place: Mari (7 pts)
Trivia