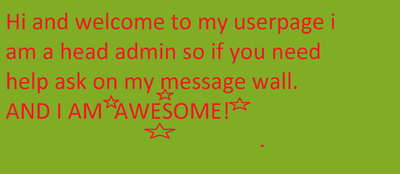 The date is 07 5 2013 I LOVE SMOSH.!
| | |
| --- | --- |
| | This user is a fan of Ian. |
I BET YOU COLUD TELL I LOVE SHUT UP!!!!!!! OPENINGS!!
I am a Head Admin here you can ask me any qusetions feel free to ask me and my Message Wall but please don't ask me if you can be Chat mod,Rollback or Admin unless.....
 If you have alot of edit but don't have Key to the wiki badge you can have Chat mod.
If you earn Key to the Wiki badge you will earn Rollback.
If you have 200 edit you COULD get Admin.

The first Smosh episode i saw was I KILLED THE TOOTH FAIRY!
My favorite pages
Links
Mariocool2100 (my Youtube)
Skylerzerocker (My Friend's Youtube)
SkylerandJonny (Are Youtube)
Gallery
Friends
go ahead and add your self
Marioawesome2 (LOL)
OishiLover75 (I gave chat mod to this Guy)
Community content is available under
CC-BY-SA
unless otherwise noted.