Spider-Man: No Way Home Trailer Dropped - The Loop
Play Sound
Ian: "So, it's a lot of good stuff. Smosh is not over. We still out here, we doin' it, and, um, you can't stop us."

Shayne: "You can't stop us. You can't stop us! You can't stop us! Listen! You can't stop us!"

— Ian summarizing the video, thus encouraging Shayne to express himself.
Smosh is Homeless is a Smosh video uploaded to the main channel by Ian Hecox himself on November 12, 2018, serving as an update for the fate of the channel and brand after Defy Media went out of business. The video features Ian, Keith, Noah, Olivia, Courtney, Shayne, Boze and Damien clarifying what is coming next for Smosh now that they no longer function under a company. 
This is the first video uploaded to any of the Smosh channels in years without interference from either Defy or Alloy Digital (the original Smosh parent company).
Description
You guys thought we were DONE? Oh no, you can't stop us this easily. Expect more videos starting this week on SMOSH, SMOSH PIT, and SMOSH GAMES.
Just in case I lose control of this channel, follow us all on Twitter and Instagram! I'm not going to list all of our handles here because that's annoying and I know you know how to use the search function.
Expert iPhone Cameraman - Josh Mattingly
Expert Boom Operator - Pamela Horton
Synopsis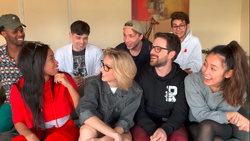 Smosh is essentially "homeless" - aka without a place to work from. It was not the fault of any of the Smosh cast or crew; its parent company, Defy Media, went out of business.
Multiple videos for Smosh, Smosh Pit, and Smosh Games were (and still are) in production when Defy Media declared its discontinuation.
Ian clarifies that they were not instructed to do anything like this. He regained access to all the Smosh channels, so production will continue, even if it is now in an "old-school" style.
Shayne mentions that they no longer have a crew, and that this video was in fact shot on an iPhone. Josh Mattingly is operating the camera while Pam is holding a boom mic to record the sound. Olivia also points out that the lighting is natural rather than artificial.
Ian and the other present members give some updates on the three main channels:

Smosh uploads will be once a week on Mondays. The first official video will be released this upcoming Wednesday (November 14, 2018). The video is a parody of Dude Perfect and was written by Shayne.
Several Smosh Pit videos need to be edited. There has also been discussion of potentially doing "weird" videos shot in the Smoshers' houses.
Multiple "really good" episodes of Smosh & Order on Smosh Games are in production. One of these episodes features an actual lawyer hired to argue against an unaware Jovenshire. Damien also mentions multiple upcoming episodes of Grand Theft Smosh and Board AF.
Ian summarizes the updates with the quote at the top of this page, prompting Shayne to repeat his last sentence, climbing over the chairs of Ian and Courtney while everyone else urges Josh to cut the recording.
After beating Shayne to the floor by gently slapping him, the audience is instructed to "Hit that bell guy!" while Pam's arm is growing exhausted as she has never held a boom mic before. The group says waves and says goodbye.
The outro screen consists of a darkened and slightly blurred looped playback of Shayne's crawling with audio of the Smosh squad performing a make-do a capella doo-wap "Subscribe!" before breaking out into laughter.
Credits
Cast
Crew
Trivia
The video description harkens back to Smosh's first decade in which videos often contained humorous descriptions below the video.
This video reveals that even though all the channels were supposed to be "going dark", Ian was given access to all of them, meaning that for the time being he can ensure that new videos will be edited and uploaded onto their respective channels.
This is the first video in a long time on any Smosh channel to feature a title in lower-case letters.