Dolls



Released:

Views (approximate):

8,779,000+

Season:

Episode:

4

Characters Featured:

Anthony Padilla, Ian Hecox, and dolls named Sally and Emily

Previous Video:

Next Video:
Smosh Short 1: Dolls is a Smosh short uploaded on April 25, 2006. This is the first short in a series of shorts Smosh created during Season 2006.
Synopsis
Anthony is playing with two dolls until Ian walks in. They engage in a stare off until Ian breaks the silence with a surprising question.
Plot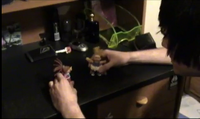 Anthony is playing with two girl dolls, anthropomorphizing them as Sally and Emily, who are in a discussion:
Emily: Hey, Sally.
Sally: Hey, Emily. How you doin'?
Emily: Good. Do you like fairies?
Sally: Yeah. But, I wanna have a sleepover.
Emily: Can I come?
Sally: Yeah, but, well...do you like making out?
Emily: Yeah...
Anthony then prepares to have the dolls make out.
Ian
then comes in, but he stops mid sentence upon seeing Anthony and his dolls. Anthony turns around, trying to hide the dolls, and asks Ian what he wants. They both stare at each other, saying nothing but stammering and heavily breathing.
Finally, Ian breaks the long silence by asking Anthony if he wanted to play dolls, flashing out two of his own. Anthony stares at him with a very excited expression on his face.
Recreation
For the Wednesday video of the Smosh 10th Anniversary Week Smosh recreated the video. This included having Anthony's old room rebuilt by Odin Abbott from scratch as a set (having it look almost identical to how it was in 2006). The video is called Dolls: 10 Years Later. They show how it was recreated in the Dolls: 10 Years Later BTS (Behind The Scenes) video, HOW WE REMADE DOLLS.
Script
Trivia
This was the shortest Smosh video until it was beaten by "Spiderman, Spiderman" at 0:53, then I-Dawg announcement 'bout YT Awards hit the shortest Smosh video, making this video the third shortest Smosh video to date.
This video has been imitated a few times in later vieos like in "The Corn Dog Conspiracy" and "Best Toy Ever!" as well as having it recreated.
When dubbed for El Smosh, a Silencio! Opening (the Spanish counterpart to the English Shut Up! opening) was added. Since there was never a Shut Up! opening when the English video was originally uploaded, the opening references this by having the opening silent for a few seconds until "Silencio!" is heard.
Patrick Neluam to dubbed version 2015 (In old spanish people dubbed on ElSmosh during February - June 2012), translated update script.
Ian and Anthony are both seen wear the same shirt, which was the first Smosh shirt created.
This is the first classic video from 2006 to be dubbed for El Smosh, as all the other classic videos dubbed were from 2011.

This was also the earliest classic video to be dubbed for El Smosh.

This is the first Smosh video without any copyrighted music, or any music at all.
Neither of them now are completely sure where the dolls came from.
Though they are not sure where the dolls came from, in the remake, they obtain the same exact looking dolls for the video. In the BTS Anthony shows they are even still in packages. Anthony reads the dolls are from a 1992 McDonald's Happy Meal.

In 1992 Ian and Anthony would have been five. This could mean that Ian or Anthony could have had the dolls since one of them were kids.
Gallery
Video
https://www.youtube.com/watch?v=P1OXAQHv09E