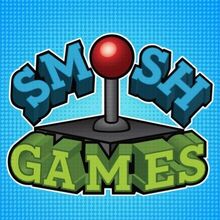 Smosh Games is Smosh's seventh channel. Created September 25, 2012 it began as Ian, Anthony, Smosh Pit Weekly host at the time Mari Takahashi joined by former ClevverGames members Matt Sohinki, Joshua "Jovenshire" Ovenshire, and David "Lasercorn" Moss playing video games, doing reviews of video games, presenting updates, and more. The first video was uploaded September 26, 2012 titled Zombies, Assassins, and DLC one day after the channel's creation.
In October 2014, Wesley "Wes" Johnson and Amra "Flitz" Ricketts were added to the official cast. The newest members, Ericka "Boze" Bozeman and Damien Haas were added in early to mid 2017.
Videos are posted on the channel everyday. Smosh Games has a Facebook page and a Twitter page. They are listed on the channel.
On August 5, 2017 Lasercorn and Sohinki both announced they would be leaving Smosh Games to become hosts of a new gaming channel, ToasterGhost. They still appear in Smosh Games episodes, though not as frequently.
On January 4, 2018, Flitz announced that he was leaving Smosh Games starting immediately due to sexual assault allegations.
On November 7, 2018 it was announced that no more videos will be uploaded to the channel due to Smosh's parent company Defy Media shutting down. However, the video Smosh is Homeless revealed that the unreleased episodes of Smosh & Order, Grand Theft Smosh and Board AF would be released.
Series
Series
Airs On
Status
Start Date
End Date
16-Bit High School
every other Saturday (formerly)
ever other Sunday
Cancelled
March 8, 2014
August 3, 2014
Backseat Gaming
Tuesdays
Cancelled
October 2, 2012
May 27, 2014
Blackout In Real Life
Saturday and Sunday
Cancelled
October 20, 2018
October 21, 2018
Board AF
Sundays
Current
October 16, 2016
TBA
Boss Fight of the Week
Thursdays
Cancelled
September 27, 2012
February 7, 2013
Cage Match Challenge
Wednesdays
Cancelled
June 19, 2013
December 25, 2013
Cell Outs
Saturdays
Cancelled
November 21, 2015
June 17, 2017
Dope! or Nope
Tuesdays
Cancelled
October 2, 2012
March 4, 2014
Friendly Fire
Wednesdays
Cancelled
March 30, 2016
October 5, 2016
Game Bang
Fridays
Cancelled
September 28, 2012
March 30, 2018
Gamer Nation
Saturdays
Cancelled
September 29, 2012
October 19, 2013
Gametime with Smosh Games
Wednesdays
Cancelled
September 26, 2012
March 23, 2016
Grand Theft Smosh
Thursdays
Current
October 10, 2013 (first run)
March 13, 2017 (second run)
October 16, 217 (Special Episodes)
October 6, 2016 (first run)
April 17, 2017 (second run)
TBA (Special Episodes)
Honest Game Trailers
Every other Saturday (formerly)
Tuesdays (currently)
Cancelled
March 8, 2014
November 6, 2018
I Have a Raging Bonus
Sundays
Cancelled
September 30, 2012
October 9, 2016
Let's Play Saturday
Saturdays
Cancelled
October 26, 2013
December 28, 2013
MariCraft
Mondays
Cancelled
April 7, 2014
October 29, 2018
Operation: Open World
Thursdays
Cancelled
October 19, 2017
November 2, 2017
Press Start
Wednesday
Cancelled
October 12, 2016
January 25, 2017
PVP
Thursdays
Cancelled
October 24, 2013
December 5, 2013
Reality Shift
Saturdays
Cancelled
October 13, 2016
April 1, 2017
Smosh & Order
Saturdays in 4 episode seasons
Current
March 31, 2018
TBA
S.A.G.N.U.T.
Wednesdays
Cancelled
September 26, 2012
June 12, 2013
Smosh Games Alliance Spotlight
Sundays
Cancelled
May 19, 2013
December 5, 2013
Smosh Games Button Bash
every other Tuesday
Cancelled
June 24, 2014
January 5, 2015
Smosh Games Live
Wednesdays at 2pm PST
Cancelled
March 1, 2017
September 13, 2017
Smosh Games Review
Thursdays
Cancelled
September 27, 2012
October 17, 2013
Smosh Games VS
Thursdays
Cancelled
February 14, 2013
October 3, 2013
Smosh SMASH!
Saturdays
Cancelled
January 12, 2015
October 24, 2015
SmoshVentures
Saturdays
Cancelled
March 6, 2017
October 19, 2018
Super Mari Fun Time
Mondays
Cancelled
October 1, 2012
March 31, 2014
Surviving Mondays
Mondays
Cancelled
August 7, 2017
January 29, 2018
The Damien & Shayne Show
Saturday (formerly)
Wednesdays (formerly)
Fridays
Cancelled
August 5, 2017
August 10, 2018
Top 5
Fridays (formerly)
Saturdays (currently)
Cancelled
September 28, 2012
April 4, 2015
Troll Patrol
Mondays
Cancelled
September 16, 2013
September 30, 2013 (this channel)
What're Those!?
Every other Saturday
Cancelled
April 25, 2016 (Moved from Smosh Games Alliance on May 27, 2017)
July 29, 2017
Why We're Single
Mondays (formerly)
every other Tuesday (currently)
Cancelled
October 1, 2012
October 21, 2014