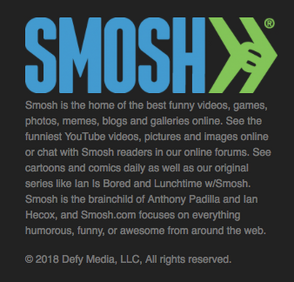 Smosh.com is the Smosh database, where people can view all Smosh episodes, exclusive content from videos, and private videos that were never uploaded onto YouTube. The website is used to sell various types of Smosh merchandise.
How it was made
Many say that the coding looks in a way they used Adobe Dreamweaver to make their website. Anthony made the website so his group of friends could chat on there as back then, there wasn't a really good social media website. Later the website got popular, so Anthony decided to put some ads on the website to make some money.
Website Designs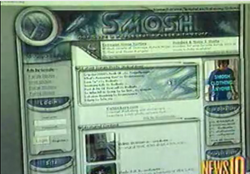 Beginnings
Smosh.com first started in November 2002 as basic flash movie and social networking website created by Anthony so that he and his friends could chat as said in an interview with PartnersProject. The selections were blue ovals. The "Extras" videos section were separated with the normal "Videos" section. The website also included a forum and a store. There were no games at the time, though.
2010-2013
The website design changed a lot. It use to look like paint on cardboard, like the Smosh intro. There used to be a "Games" section but within this website change, an "Extras" section was added in the "Videos" section. The forum and store are still active nowadays. A new feature called Smosh Pit was also added to the website.
(2013-2017)
On January 22 and 23, 2013, around the time of That Damn Movie!, Smosh.com was given a complete website re-design. The URL is still the same (Smosh.com) but the cardboard theme was dropped with more simple clean layout. A new area self-titled Shut Up! Cartoons and Smosh Games were added to the new website. The forum and store are still part of the website. After a week they changed the Background to the Cardboard layout but everything else stayed. On March 26, this version was restored. In 2015 a Music page was added. A small box was also added where fans can choose to look at, "Music", "Shop" or "App" quickly.
(2018)
In 2018 the website was heavily resigned. The previous design was scrapped in place of a new, simpler looking website with a plain white background and light blue text. Most sections including Smosh Pit were removed. The website now only contains the sections "Videos", "Articles", "About" and "Store".
Website's Pause
On November 6, 2018, after the shutdown of Smosh's parent company Defy Media the website was disabled. Four days later on November 10, the website was reactivated though it is currently not being used.
Gallery