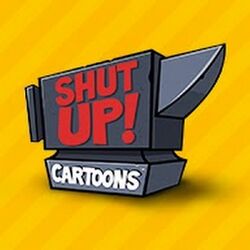 Shut Up! Cartoons is a YouTube channel by Smosh, originally hosting several animated shows created by multiple different animators. Created as part of the "YouTube Original Channel Initiative", a $100 million program started by Google. The channel has gained a little over 2,000,000 subscribers, making it one of the least subscribed Smosh channels. The channel was closed on June 23, 2017, nine days after Anthony Padilla's departure from Smosh, with the finale of Smosh Babies uploaded the same day.
History
The Shut Up! Cartoons teaser trailer featured clips from 11 different shows, with Ian and Anthony later stating that there were 18 planned shows in total. Each show would run 10 episodes per season. The cartoon channel's logo creation is an anvil with the words "Shut Up! Cartoons" on it.
The first three cartoons launched by the network included Do's & Don'ts (airing on Mondays), Pubertina (airing on Wednesdays), and Zombies vs. Ninjas (airing on Fridays). Do's & Don'ts and Zombies vs. Ninjas both met with positive reception among YouTubers. However, Pubertina met negative reception but also gathered a commiting fanbase called "Pubelievers", mostly young females.
In May 2012, Smosh launched Krogzilla (airing on Thursdays), a show created by and starring Cory Edwards and featuring John O'Hurley, which received a positive response. Then, Smosh released Snowjacked (airing on Tuesdays), which met mixed reviews.
Since each series can only air 10 episodes a season, Do's & Dont's, Pubertina, and Zombies vs. Ninjas eventually came to an end in July 2012. Do's & Don'ts was replaced by Nature Break which gathered positive response, Pubertina was replaced by Weasel Town which gathered mixed response, and Zombies vs. Ninjas was replaced by Oishi High School Battle which gathered positive response.
Another show was added replacing Krogzilla called Samurai! Daycare, which received a positive response. In September 2012, they also launched Politicats to replace Snowjacked, which met positive response.
The Monday, Wednesday, and Friday shows came to an end in September 2012. The show that replaced Nature Break was Planets, a reality show about the ten celestial bodies of the galaxy, which met positive response. However, the show replacing Weasel Town, Really Freaking Embarrassing, created by Peter Hannan, met very negative responses from the viewers. Its first trailer was removed from the website, stated as "shocking and disturbing content". A new trailer was added, with less disturbing scenes. Oishi Origins, a three-episode prequel to Oishi High School Battle, was also launched replacing the original Oishi High School Battle which met positive response.
The show replacing Samurai! Daycare in October 2012 was Icons of Teen, which features both fictional characters (such as Batman and Spock) and real celebrities (such as Oprah Winfrey) as teenagers. The show met mixed reviews. Also that week, Oishi Origins was replaced by Teleporting Fat Guy, which is based on a character from previous Smosh videos and explains how he became the Teleporting Fat Guy. The show met positive reviews. On November 20, Politicats was replaced by Sub:3, following a Speed Racer-like character that delivers pizza, met by mixed reviews.
On November 15, Do's & Don'ts and Krogzilla received IAWTV nominations for Best Animated Web Series. On November 28, Really Freaking Embarrassing was replaced by With Zombies created by Matt Clark (the creator of Planets). This was the end of Season 1.
Season 2 started in February 2013 with Do's & Don'ts Season 2 kicking it off. Do's & Don'ts (as usual) met positive reception. Pubertina Season 2 premiered in February 2013 also with (suprisingly) mixed views. Zombies vs. Ninjas came back for their second season on Shut Up! Cartoons in March 2013 which met (yet again) positive reviews. Along the road when Do's & Don'ts ended, the channel met a hiatus and stopped uploading videos on April 17, 2013 and started uploading again on May 20, 2013 starting with the Planets Season 2 trailer.The season 2 of Planets met few postitive reception.
In June 2013, a new cartoon aired called "Paper Cuts", following movie trailers and famous scenes remade using paper. The show met with positive reception. Two weeks later, the famous Canadian cartoon, Life's a Zoo aired. This show was the first to ever air on Sunday's and the first show to have a long duration of episodes. The show met good reception.
In July 2013, another new cartoon-live action show aired called "Just Shut Up!", which parodies an ordinary Saturday cartoon show airing reruns of past shows, this series met with mixed reviews questioning the premise of the show and showing nothing but older episodes of other cartoons. This was the first cartoon to ever air on Saturday's.
After the end of Planets the audience on the channel was very low (Only 975,000 Subscribers in 1 year and a half and a media of 15-20.000 views per video) and there are much rumours that the Shut Up! Cartoons would close after the end of Oishi High School Battle Season 2 due to the lost interest that the channel has. But that's been disproved because of Smosh Babies Season 2.
In 2016 the only remaining shows were Smosh Babies and Super Smosh. Since Anthony left Smosh to focus on his own YouTube channel in June 2017, the thirtieth cartoon cannot be created.
In 2017 the only remaining show was Smosh Babies.
Intros
The intro for a Shut Up! Cartoon is simple, it starts out like a normal Smosh video but with an animated arm (with Mickey Mouse-esque glove) spraying the paint onto the logo box while a line from the video plays. An anvil (with "Shut Up!" on it) crashes down on the Smosh logo box when the famous "Shut Up!" line plays and a character says "Cartoons". The openings are quotes in the episodes. Below is who said "Cartoons" in each opening.
Schedule
The list presents each series run time and day of the week aired from April 30, 2012 to June 23, 2017.
Sundays
Life's A Zoo: June 23, 2013 - November 3, 2013 (Status: Ended)
Mondays
Tuesdays
Snowjacked: June 26, 2012 - August 28, 2012 (Status: Ended)
Politicats: September 4, 2012 - November 6, 2012 (Status: Ended)
Sub:3: November 20, 2012 - January 22, 2013 (Status: Ended)
Wednesdays
Thursdays
Krogzilla: May 31, 2012 - August 2, 2012 (Status: Ended)
Samurai! Daycare: August 9, 2012 - October 11, 2012 (Status: Ended)
Icons of Teen: October 18, 2012 - December 20, 2012 (Status: Ended)
Fridays
Saturdays
Just Shut Up!: July 13, 2013 - November 23, 2013 (Status: Ended)
Channel's Closure
After the Smosh Babies final episode OUR FUTURE SELF?! (Smosh Babies FINALE), the channel was closed but still remains up. Due to Anthony Padilla's departure it is likely Defy Media, the owner of Smosh, had lost interest in the channel and the lack of revenue that the channel brought it. It was also considered by some to be a "dead channel" months before its closure.
Trailers
All trailers premiere at 6:00pm PST, 9:00pm EST, 8:00pm CST, and 7:00pm MST:
References
External Links
Community content is available under
CC-BY-SA
unless otherwise noted.