Wiki Targeted (Entertainment)
Play Sound
2007 Videos
21. Three Wishes January 6, 2007
Two guys on a desert island get a chance at survival by finding a genie.
22. Axe Murderer January 19, 2007
Ian fights for his life when an axe murderer shows up at his doorstep.
23. Easy Step Febuary 3, 2007
The Easy Step revolutionizes the way you do everything! Order now!
24. Sparky Goes to a Club Febuary 18, 2007
Smosh provides some life lessons in this storybook about Spark the dog.
25. Spiderman, Spiderman March 2, 2007
On a lazy day in the park, Ian and Anthony decide to play superhero.
26. License Test March 16, 2007
Faced with a harsh instructer, Anthony struggles to pass his liscence test.
27. April First March 31, 2007
Ian and Anthony try to out-April Fool's each other.
28. Anthony Gets a Haircut April 7, 2007
After being denied, Anthony realizes his long hair stands in the way.
29. Handshake April 21, 2007
Anthony and Ian have a "shaky" reunion.
30. Hardcore Max May 7, 2007
A music video about Max, who's probably the most hardcore kid alive.
Pokemon Commentary

May 12, 2007
Watch exclusive commentary on the Most Important Video of All Time .
31. Food Battle 2007 May 29, 2007
A fight to the death to prove which food is superior... again!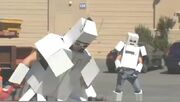 '''

Food Battle 2007 Extras

'

May 29, 2007
Extras and never-before-seen footage from the combat in 2007 Food Battle.
32. Transformers Rap June 15, 2007
Smosh raps about its favorite robots in disguise in this hella tight video.
Transformers Rap Extras

June 15, 2007
Get behind-the-scenes and check out this members-only extra action.
Ian Forgets Lyrics

June 23, 2007
Ian has some serious troubles remembering the Transformers rap.
33. Three Guys in a Hotel July 11, 2007
Things take a turn for the weird when Ian and Anthony star in a hit sitcom.
Boxman Bloopers

July 21, 2007
Watch these hilarious bloopers from the very first Boxman music video!
34. Quest for the Scooter August 4, 2007
The guys race against time for the Coolest Scooter on Earth.
35. The Assassins August 24, 2007
Creative differences simmer on the set of Ian and Anthony's action film.
36. Replacement Needed August 31, 2007
When Ian and Anthony split up, they find replacements in T-Bag and Phuong.
37. Reunited? September 7, 2007
Anthony and Ian consider their breakup. Pt. 3 or "Breakup."
T-Bag: Pizza Delivery Boy

September 7, 2007
T-Bag and Phuong combined forces to make a killer video. Members-only!
38. Male Model September 28, 2007
Anthony steals Ian's lifelong dream of becoming a male model. Fabio!
Breakup Bloopers

October 14, 2007
Behind-the-scenes footage and extras from the "Smosh Breakup" series.
39. The Haunting October 26, 2007
Hosting a sleepover party, Anthony is convinced the house is haunted.
40. Toy Airplane November 16, 2007
Anthony and Ian witness a murder while flying their new sweet RC plane.
41. Ian's Birthday December 7, 2007
Anthony breaks some bad news to Ian on his birthday.
42. Santa is Real! December 22, 2007
A young boy who dares to dream sets out to prove that Santa exists.