"You needed to readjust your position because you were taking damage, not only from heroes, but from the creeps, so you needed to back up from the creeps so the creeps would stop attacking you, and then you needed to turn around and you needed to kill that sniper before he got his Ulti OD..."
—Sohinki giving Jovenshire advice after the latter is killed
SOHINKI TRAINS JOVENSHIRE is the 13th episode of Raging Bonus, released on December 23, 2012. It features Sohinki training Jovenshire in the former's favorite game Dota 2.
Description
Sohinki teaches Jovenshire how to play Dota 2
Synopsis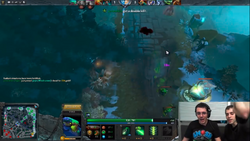 Jovenshire has refused to play in bot matches, instead wanting "the real deal". Joven believes that, with Sohinki's "pro" coaching, he will get the grasp of the game despite having never played a real-time strategy PC game before in his life. Lasercorn will be joining them (off-screen) since he wanted to see this happen.
Slow Motion Cams
| Title | Time | Description |
| --- | --- | --- |
| Joven First Blood Cam | 3:52 | Jovenshire getting his first kill. |
| HOW IS THIS POSSIBLE? CAM | 5:23 | Jovenshire getting a double kill. |
Trivia
Community content is available under
CC-BY-SA
unless otherwise noted.