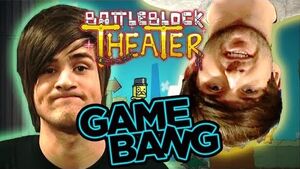 SHOOTING BALLS IN THE HOOPS is the thirty-ninth installment for the SmoshGames series Smosh Game Bang.
It was uploaded on June 21, 2013 on both smosh.com and YouTube.
Synopsis
The Smosh Games crew play Battleblock Theater.
Punishment
Members of the losing team have to swap socks and do a puppet show.
Teams
Sohinki and Lasercorn (Socorni)
Anthony and Ian (Anthonian)
Mari and Jovenshire (Marishire)
Matches
Team Marishire vs Team Anthonian (21:21,0:35,0:42)
Team Socorni vs Team Marishire (21:21,28:7,35:14)
Team Anthonian vs Team Socorni (7:14,14:28,42:21)
Results
Team Socorni - 4 points
Team Anthonian - 3 points
Team Marishire* - 0 points
*during revealing scores, Anthony change the name of Marishire team to Jovari
Trivia