"Should we call up Lasercorn and ask him how the hell we're supposed to play this game?"
—Ian
SHOOTIN' MOFOS WITH A BOW is the 10th episode of Gametime with Smosh, hosted by Ian and Anthony, and its single episode of Assassin's Creed III. It was released on November 28, 2012.
Description
While playing Assassin's Creed 3, I hope we don't rewrite history
Watch our Epic Assassin's Creed 3 music video here: http://youtu.be/12PWq22E9CQ
Synopsis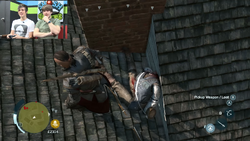 This is Anthony's first time playing Assassin's Creed III
| Achievement | Won by | Timestamp |
| --- | --- | --- |
| Make Your Enemies Kill Each Other | Ian | 3:16 |
Trivia
Community content is available under
CC-BY-SA
unless otherwise noted.