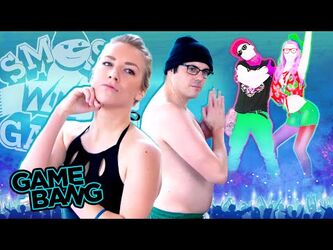 SEXY JUST DANCE HOT TUB PARTY! is a Smosh Game Bang released February 5, 2016. It is part of the Smosh Season Games.
Synopsis
The entire members of Team Blue Balls and Team Snow Fleeks have a 1 vs. 1 match on Just Dance 2016. The team with the highest cumulative score wins.
Teams
Punishment
The entire losing team have to make snow angels in their bathing suits.
Commentary
Turn Order and Songs performed
Wes vs Courtney (Disney's Frozen - Let it Go)
Keith vs Flitz (Run-DMC & Aerosmith - Walk This Way)
Olivia vs Lasercorn (Calvin Harris - Summer)
Joe vs Jovenshire (Enrique Iglesias Ft. Descemer Bueno - Bailando)
Sohinki vs Shayne (The Bench Men - Don't Worry Be Happy)
Mari vs Noah (Lady Gaga - Bad Romance)
Final Score
Team Snow Fleeks - 48,311
Team Blue Balls - 43,247
Trivia
Since the Blue Balls had more players, the Snow Fleeks brought in Joe Bereta to even out the numbers.

Later on, Noah couldn't participate in the punishment as he was showing early symptoms of frostbite, so Joe took his place for the snow-based punishment.