Wiki Targeted (Entertainment)
Play Sound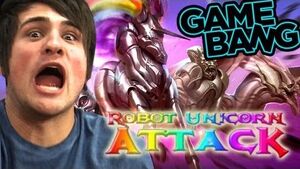 ROBOT UNICORN TATTOOS is the forty-fifth installment for the Smosh Games series Smosh Game Bang.
It was uploaded on July 26, 2013 on smosh.com and on August 2nd, 2013 on YouTube.
Synopsis
The gang get together to play Robot Unicorn Attack, which is (jokingly) referred to as a plagarism of Lasercorn's tattoo.
Punishment
The person with the lowest score would have to get a tramp stamp tattoo drawn in permanent marker of Lasercorn's nuke-shooting, laser-horned Unicorn.
Turn order
Lasercorn
Scores
1st place: Sohinki - 14,834
2nd place: Ian - 11,038
3rd place: Lasercorn - 10,250
4th place: Jovenshire - 9,436
5th place: Anthony - 7,490
Last place: Mari - 4,846
Video Summary
(incomplete)
Pregame
The group, seated, begins the video by moving their arms and fingers in dramatic motions and yelling "Game Bang!" The video then cuts to Lasercorn introducing the video, everyone around him smiling. Lasercorn lifts up his shirt to show the viewers his unicorn tattoo on his upper right back, joking that they stole his unicorn tattoo idea from him. It is revealed that Lasercorn is the one that wanted to play the game in the first place, but he is okay with it. Anthony then further explains the game:
We're going to play one runthrough which gives you three wishes and then it adds up the final score and the person with the lowest score's gonna get a Lasercorn tattoo similar to Lasercorn's.
If Lasercorn loses, Ian says they will enhance the crotch region. A few then yell "Gamebang" and it begins.
Gameplay
Ian and Lasercorn are shown first, their unicorns racing across the screen and Ian supplying positivity by telling his fellow gamers to aim for the stars. Anthony wonders what the fairies do, which is giving more wishpower. Lasercorn then does a fabulous leap over a star and rainbow and the group shows their appreciation. Anthony then states that Ian is the best at platform games.
Trivia
This is the second Game Bang where the turn order moved anti-clockwise instead of the usual clockwise.
Ian stated that he was the worst at platformer games but ended up getting the 2nd highest score.