Wiki Targeted (Entertainment)
Play Sound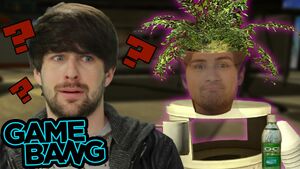 REAL LIFE PROP HUNT is the 111th installment of the Smosh Games series Smosh Game Bang.
It was uploaded on 7th November 2014 on both smosh.com and YouTube.
Synopsis
The Smosh Games crew would divide into two teams, the hunters trying to kill the props and the props trying to survive. They would get one point for killing a prop on team hunter, and one point for surviving on team prop. You also had to taunt every one minute, and taunt constantly in the last twenty seconds. In later rounds, they also had to be moving constantly.
Punishment
Initially it was meant to be individual challenge with two losers having stage props broken over their heads by the winners but in the end people in the team with lowest score were declared losers together.
Scores
Winners: Team Antcornari - 9 Points
Losers: Team Sohianshire - 7 Points
Trivia
For the first time ever, Jovenshire and Sohinki were in a team together. They have yet to form a two-player team though.
During the punishment, a small piece of glass got stuck inside of Joven's head, even though they were supposed to be break-away props. Probably because Lasercorn broke the plate in half before hitting Joven's head and likely hit him with the broken edge.

Sohinki took the shard out with tweezers and a wet paper towel.

This was the 10th time that Anthony and Lasercorn won on a team together (11 if one counts Don't Take My Sunshine Away).
Despite having played before on Gametime with Smosh, Anthony states he never knew about the taunt button before this.
This is the first time the crew have played a Garry's Mod-related game