Wiki Targeted (Entertainment)
Play Sound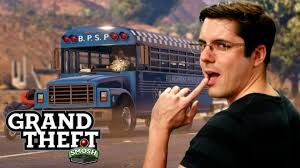 PRISON BREAK HEIST! is the 75th episode of Grand Theft Smosh. It was released March 19, 2015.
Synopsis
We're back with more heists in GTA V Online and this time we're breaking someone outta the slammer! In order to pull it off, we need to be careful and stick to the plan. Or... do none of that and watch Wes cause full-on #SohinkiRage! YAY!
Join the guys of Smosh Games every Thursday as they play through Grand Theft Auto V online. Each week a new adventure, each week more mayhem.
Fan Interaction
Wes commented saying: 'Yay!! I'm excited to do more heists!!!' It received over 430 likes.
Jovenshire commented saying: 'Dont worry giys. The joven hawk will be back. My hair got too long so it doesnt stay up
(Thats what she said)' It received over 320 likes.