Wiki Targeted (Entertainment)
Play Sound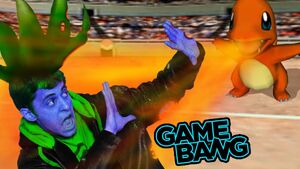 POKEMON SHOWDOWN REVENGE is the ninety-first installment of the Smosh Games series Smosh Game Bang.
It was uploaded on 20th June 2014 on both smosh.com and YouTube.
Synopsis
The Smosh Games crew play another Pokemon match (best 3 out of 5), this time in the original Pokemon Stadium.
Punishment
The losing team (the team to lose three times out of five) will act as Pokémon and the winning team will act as their trainers and act out a Pokémon battle.
Teams
Team Thunderpussy - Anthony, Ian and Sohinki
Team Smokin' Weedle - Lasercorn, Jovenshire and Mari
Battles
Pokémon are listed in parentheses as they appear on screen from left to right
Note: Pokémon in italic indicates that it was defeated during the battle.
Jovenshire (Oddish, Psyduck, Vulpix) vs Anthony (Bulbasuar, Charmander, Squirtle)
Lasercorn (Clefairy, Pikachu, Charmander) vs Ian (Cubone, Magnemite, Psyduck)
Mari (Oddish, Cubone, Vulpix) vs Sohinki (Sandshrew, Pikachu, Squirtle)
Jovenshire (Bulbasaur, Sandshrew, Squirtle) vs Ian (Oddish, Cubone, Magnemite)
Lasercorn (Cubone, Oddish, Meowth) vs Anthony (Clefairy, Sandshrew, Bulbasaur)
Final result
Winners: Team Thunderpussy (3W-2L)
Losers: Team Smokin' Weedle (2W-3L)
Trivia
Despite the episode being called "Revenge", the said revenge turned out to fail as the same team (Thunderpussy) won the previous Pokemon Game Bang.

There were also a couple of other coincidences that occured with the previous Pokemon Game Bang:

In both Game Bangs, Sohinki didn't win any of his matches but he was on the winning team.
Anthony won all his games in both Game Bangs

This is the second time where the teams have been the same for two consecutive team challenges (In this case, Team Thunderpussy and Team Smokin' Weedle).