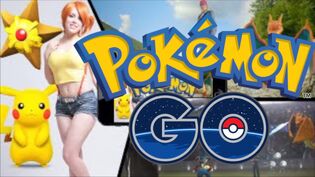 Pokemon GO is the 108th Honest Game Trailer.
Script
We were promised Pokemon in the real world, but what we got was this. (shows a player "throwing" Pokeballs at a Machgop and missing) Pokemon GO.
Be a part of the trend more popular and annoying than people who take vaping seriously, that got thousands of new fans into the franchise by making it free to play, sticking it on your phone, and taking out most of the parts that make it a video game, in this groundbreaking combination of mild cardio, Google Maps, and Paper Toss that, unfortunately for the future of gaming, worked out really, really well.
Prepare to step into Pokemon's largest region yet: outside. More than twice the size of Kanto, outside features photo-realistic graphics, billions of NPCs, and an unforgiving permadeath system. You'll join fellow trainers across the world out into the sun's harsh rays as you finally spend some time out of the house, wandering aimlessly around the neighborhood with your head in your phone.
Prepare yourself to be the very best, like no one ever was, because they're throwing out all the stuff that made Pokemon interesting and keeping the part where you walk back and forth in the grass until something happens. Featuring real-time battles that awkwardly superimpose a 2-D sprite on whatever you're looking at, and a grinding system that will literally have you grinding the Pokemon you catch into candies that you force-feed to the Pokemon you kept alive. It wasn't enough to capture a team of fighting slaves. Now you make them eat their friends, too.
Once you're tired of Pokemon GO's actual gameplay, discover the game's real hook: color-based gang turf wars, as Pokemon GO leaves out trainer battles and trading in favor of a gym system, where you'll furiously tap your way to bragging rights while you arbitrarily ride or die for the emo team of Mystic, the asshole team Valor, or the pain-eating team Instinct, a.k.a. Hufflepuff, a.k.a. the Pee-Pants Egg Babies! Team Valor for life, yo!
So get out your Ash Ketchum cosplay gear while you participate in crazy flash mobs, live stream yourself falling into a lake, and move as far as you can out of your rural area or poor neighborhood because, apparently, Pokemon don't want to live there either, and get in on this fad before old people ruin it. (Hillary Clinton: How we get them to have Pokemon GO to the Polls.) That is, if you can even log on in the first place.
Starring Going for a Walk!, Making Some Friends!, Hanging Out at Parks at Night!, Finding a Dead Body..., Getting Mugged?!, Getting Stabbed!?!, and Falling Off a Cliff (You Got to Be Kidding...).
Pokemon GO Recharge Your Phone.
Y'know, if they really wanted to make Pokemon in real life, your mom would kick you out of the house when you turn ten just so she can bang Professor Willow.
Community content is available under
CC-BY-SA
unless otherwise noted.