Cobra Kai Season 4 - The Loop
Play Sound
Sohinki: "Snipe. Snipe people. Keep sniping. Nice. Nice. Nice. Nice."

Lasercorn: "My right triangle snipes people in the face."

— Lasercorn and Sohinki
PLAYSTATION ALL-STARS BETA is the 4th episode of Dope! or Nope and its one-off episode on PlayStation All-Stars Battle Royale. It was released on October 23, 2012.
Description
Guess who has early access to Playstation All-Stars? These guys!
Results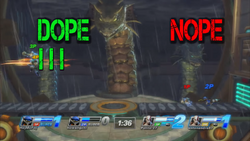 Dope
Sohinki doped the character selection.
Sohinki doped the combat.
Lasercorn doped the "awesome level that just changed".
Sohinki doped the super moves.
Sohinki doped the weapons.
Lasercorn doped how Sweet Tooth can exhale fire.
Sohinki doped Kratos's "giant" hammer and its powerful moveset.
Sohinki and Lasercorn doped Colonel Radec's super move.
Nope
Lasercorn noped how it was unclear what players get points for.
Final Verdict
With 8 doped and 1 nope, PlayStation All-Stars Battle Royale received an overall Dope. However, Lasercorn made it clear that he was still unconvinced that it was on par with Super Smash Bros.
Trivia
Sohinki threatened to add a nope if he didn't get the character he selected (PaRappa the Rapper) for a second time.
Sohinki was confused if Lasercorn wanted to nope the super moves before he played because Lasercorn said they appeared to be weak.