"If you've ever wanted to see what it looks like when Sweet Tooth takes on a Big Daddy, then PlayStation All-Stars Battle Royale might be the game for you. The game was developed by SuperBot and features some iconic characters from huge franchises. But, can the combined star power of all these characters add up to a superior brawler, or will All-Stars turn out to be all-suck? Let's find out!"
—Intro by Lasercorn
PLAYSTATION ALL-STARS BATTLE ROYALE REVIEW is the 10th episode of Smosh Games Review, hosted by Lasercorn, who reviews the crossover fighting game PlayStation All-Stars Battle Royale. It was released on November 22, 2012.
Description
Lasercorn does a review for Playstation All-Stars
Review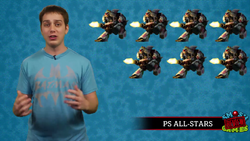 Praising the game's visual style and animations as well as its online and combat gameplay, but criticizing its story mode, final boss, and "meter mechanic", Lasercorn rated PlayStation All-Stars Battle Royale 7/10.
"So let's go over the pros and cons one more time. On the pro side, you've got great visuals, slick animations, and fairly smooth online play, as well as a myriad of attack options for each character. On the con side, you have really minimal story mode, [a] disappointing final boss, and the meter mechanic, which, as I mentioned, I'm not a huge fan of. Plus, I kind of feel like they skimped out on the characters so that they could release them as DLC later. Overall, the game is pretty good but doesn't get close to my expectations. It's just not as addictively fun as Smash Bros., but it's still fairly entertaining and has some great characters, so it gets seven transforming Clown Mechs out of ten."
— Lasercorn
Community content is available under
CC-BY-SA
unless otherwise noted.