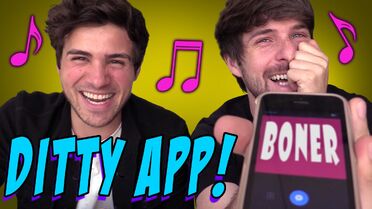 PLAYING WITH OUR DITTY is the 219th episode of Smosh is Bored. It was released on June 8, 2015. In this video, Ian and Anthony play with the Zya app Ditty.
Video Objective
Someone choses a song, and then types in a message. The app, on the phone, will then sing the song. Their phrases tend to be of a sexual nature.
Phrases
1. "I just got my first boner and it was weird." (Anthony and Ian)
-To the tune of "Hallelujah"
2. "I like to put my balls in the microwave." (Anthony)
-To the tune of "Hail to the Chief"
3. "I just saw a man get stabbed in the butt." (Ian)
-tune not stated
4. "Hit me with shit. It feels great." (Anthony)
-To the tune of "Hit Me With Your Best Shot"
5. "Boys just want to ***k frogs."
-To the tune of "Boys Just Wanna Have Fun"
Community content is available under
CC-BY-SA
unless otherwise noted.