Wiki Targeted (Entertainment)
Play Sound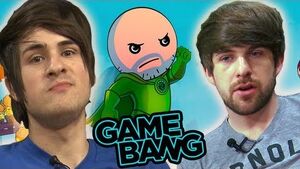 PLATFORMING BONDAGE is the fiftieth installment in the Smosh Games series Smosh Game Bang.
It was uploaded on 30th August 2013 on smosh.com and on 6th September 2013 on YouTube.
Synopsis
The Gang get together to play the theater mode on Cloudberry Kingdom.
Punishment
The 2 teams that finish three courses with a combined time of over 5 minutes would have to partake in a three-legged race around the studio, duct-taped to their partner.
Results
Anthony and Ian (Anthonian): 2:30
Jovenshire and Lasercorn (Jovencorn): 5:24
Mari and Sohinki (Marhinki): 5:29
Trivia
In this video, Sohinki uses his first slap against Jovenshire (who lost a slap bet to him playing Super Smash Bros. Brawl).
During the punishment, Ian references Jovenshire removing his (Ian's) belt with his mouth in the Live stream, saying "During the Live Stream, Joven was down at my crotch, now the favor is returned".
Anthony mistook his and Ian's score for 1:30.
The game "Cloudberry Kingdom" was featured before in Dope! or Nope video Cloudberry Shenanigans.
Joven calls the theater mode bondage mode.
As Anthony, Jovenshire and Sohinki had already played the game before, the teams were picked by rolling a die with Ian representing 1/2, Lasercorn 3/4, and Mari 5/6. Sohinki rolled and got a 6 and had Mari as a partner, Joven rolled a 4 and got Lasercorn which left Anthony with Ian (he didn't need to roll the dice by that point).