Doctor Strange in The Multiverse o Madness - The Loop
Play Sound
ONE LETTER OFF KIDS SHOWS is a Smosh main channel video from Season 2017 that was released on September 6, 2017. It is part of the One Letter Off series.
Synopsis
What if your favorite kids shows were one letter off?
The Suite Life of Zack and Cody/The Suite Lie of Zack and Cody
Zack and Cody hope that no one finds they're not actually twins and their "suite" is actually a standard hotel room, and Zack closes his eyes when he pees because he's scared of his own delegates, which confuses the two.
The Magic School Bus/The Magic School Bust
At a Magic School, two policemen are searching a magician for drugs and expose his tricks, including a rabbit, a bird, and a bunch of tied-up handkerchiefs. They eventually find marijuana and attempt to apprehend the magician, but he disappears and the police shot the smoke to find him.
Scooby Doo/Scooby Door
The Scooby gang splits up, and Shaggy drags a door painted to look like Scooby Doo.
The Wiggles/ He Wiggles
A man is twerking while saying, "Wiggle, wiggle, wiggle."
The Suite Life of Zack and Cody/The Suite Life of Zack and Cod
Zack and his fish, Cod, bamboozled Mr. Mosby to steal chocolate and get away with it.
Big Time Rush/Big Time Rash
Big Time Rush is scratching a ton of rashes all over their bodies.
That's So Raven/That's No Raven
A birdwatcher watches a raven and realizes it's actually a crow.
iCarly/BiCarly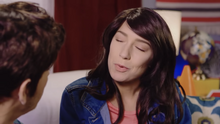 A bisexual Carly tell Freddie someone stole her Pear Pod, and she likes both men and women.
The Suite Life of Zack and Cody/The Suite Life of Zach and Cody
Cody tells Zack to clean the ballroom or the hotel would lose customers and tells Zack to come on, but Zack tells Cody his name is actually Zach, and agrees as they run out to reveal the hotel is actually a set.
Similar Smosh Videos
Trivia
This is the final Smosh video to use the "Shut Up" intro since its first use in 2006, except for the November 2020 videos for Smosh's 15th anniversary.