ONE LETTER OFF BOOKS

Thumbnail featuring Noah Grossman and guest star Monica Vasadani

Released:

August 16, 2017

Video Length:

3:55

Views (approximate):

1,345,000+

Season:

2017

Episode:

61

Characters featured:

Famous book characters

Previous Video:

Next Video:
ONE LETTER OFF BOOKS
is a video from
Season 2017
released August 16, 2017. It is part of the
One Letter Off
series.
Synopsis
What if your favorite books were one letter off?
13 Reasons Why: 130 Reasons Why
Clay and Hannah open the box to find 130 tapes. Hannah decided to go to the cops.
The Adventures of Huckleberry Finn: The Adventures of Huckleberry Fine
Two women see Huckleberry Finn and say he is fine.
Old Yeller: Sold Yeller
Jim and Katie sell Old Yeller to a farmer. The farmer is concerned about Yeller's foamy mouth, so they say it's toothpaste, and the blood is red toothpaste. Jim and Katie take off and Old Yeller then attacks the farmer.
Charlotte's Web: Charlotte's Wet
The Lion, the Witch, and the Wardrobe: The Lion, the Witch, and the Wardrone
Edmund and Susan step out of the wardrobe to find themselves in Narnia. they point out a lion, a witch, and a wardrone that attacks them. The head of a lion (presumably Aslan) lands in Edmund's hands. Disturbed at this, Edmund and Lucy go back in the wardrobe.
50 Shades of Grey: 50 Shades of Greg
Divergent: River Gent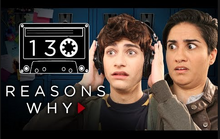 Community content is available under
CC-BY-SA
unless otherwise noted.