OMG PERFECT DARK, previously titled PERFECT DARK N64, is the 4th episode of Gametime with Smosh and its one-off episode on Perfect Dark. It was released on October 17, 2012.
Description
Ian and Anthony go old school with this N64 classic!
Synopsis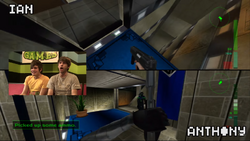 (needs expansion) Ian and Anthony start off playing Perfect Dark on the Xbox 360 and eventually switch to the original Nintendo 64 version.
Trivia
They are playing the Xbox 360 port (2010) and then the Nintendo 64 port (2000).
Community content is available under
CC-BY-SA
unless otherwise noted.