NERF CHALLENGE! (Squad Vlogs) is the fourth Squad Vlogs episode released January 7, 2016 on the Smosh 2nd Channel.
Synopsis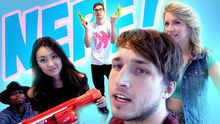 The Smosh Squad play around with a variety of Nerf guns, including ZombieStrikers and Megas. Later they start a raid on some familiar faces...
Community content is available under
CC-BY-SA
unless otherwise noted.