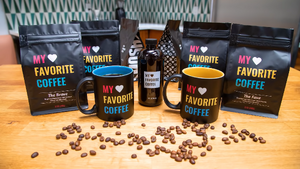 "We promise it's not trash."
—Tagline.
My Favorite Coffee is a line of coffee beans and related merchandise produced by Smosh. It has its own website, MyFavoriteCoffee.com.
History
"I've been a lover/snob of coffee for a long time, and one of my favorite things to do is share my love of high quality coffee with my friends and family and getting them excited about it too. Now I get the chance to share that experience with you! I hope you enjoy My Favorite Coffee."
—Ian's memoir on MyFavoriteCoffee.com
Plans for the coffee seem to go back to at least early summer 2019, as the line's Twitter account was created on July 8.
My Favorite Coffee was officially introduced to Smosh fans on October 14, 2019 in the video Every Coffee Shop Ever, the final scene of which served as somewhat of an advertisement for the coffee. According to Ian, the coffee is ethically sourced, specialty grade, and is available in two blends and a cold brew. Fans could order the coffee off the website with a link in the description. Later that month, My Favorite Coffee was added to the Smosh Store and an official YouTube channel was launched.
Products
Gallery
Logos and taglines
Banners
Miscellaneous
External links
Community content is available under
CC-BY-SA
unless otherwise noted.