Wiki Targeted (Entertainment)
Play Sound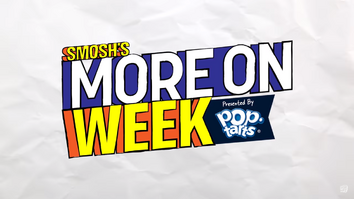 More On Smosh Week is an event that was released in February 2018 and sponsored by Pop Tarts Toaster Pastries. The Smosh shows on Smosh Pit and Smosh Games all featured more of what the fans had requested to see in each show.
Sponsor Message
Thanks again to Pop-Tarts Toaster Pastries for partnering with us to bring you More On Smosh Week. Select Pop-Tarts flavors now have More Frosting!
Event
Date
Show
Episode
More Of Request
Channel
February 5, 2018
Every Blank Ever
EVERY FOREVER 21 EVER
N/A
Smosh
February 7, 2018
Sketch Videos
RAPPERS IN 2018
N/A
Smosh
February 8, 2018
Squad Vlogs
2 TRUTHS, 1 LIE - WATER CHALLENGE (Squad Vlogs)
N/A
Smosh Pit
February 14, 2018
Every Blank Ever
EVERY VALENTINE'S DAY EVER
N/A
Smosh
February 18, 2018
Board AF
WE GET PHYSICAL!
Physical Games
Smosh Games
February 19, 2018
Sketch Videos
WEIRD GUY MAKES A POP-TART GIRLFRIEND
N/A
Smosh
MariCraft
WE GO BACK TO OUTLASTER ISLAND (Maricraft)
Outlaster
Smosh Games
February 20, 2018
The Show w/ No Name!
MORE SAVAGE ROASTS! (The Show w/ No Name)
Roasts
Smosh Pit
February 21, 2018
The Damien & Shayne Show
THE DREAM TEAM GOES TO DREAM LAND
Retro Games
Smosh Games
February 22, 2018
Squad Vlogs
TRY NOT TO LAUGH CHALLENGE 4 (Squad Vlogs)
Try Not To Laugh Challenge
Smosh Pit
February 23, 2018
Smosh Game Bang
Falling On Our Faces w/ OMGItsFireFoxx
Guests
Smosh Games
February 24, 2018
Smosh Pit Weekly
SECRET CUDDLING TECHNIQUES! (w/ Lily Marston, Elliott Morgan, and The Warp Zone)
Guests
Smosh Pit
February 25, 2018
Board AF
WE TAKE ON THE APOCALYPSE IN SUPERFIGHT!
Classic Games
Smosh Games
March 1, 2018
Squad Vlogs
GETTING FREAKY ON A FARM! (Squad Vlogs - Field Trip)
Field Trips
Smosh Pit
March 4, 2018
Board AF
TAPE FACE GETS AWKWARD
N/A
Smosh Games
March 6, 2018
The Show w/ No Name!
ARE YOU MY DAD?! (The Show w/ No Name)
N/A
Smosh Pit
Community content is available under
CC-BY-SA
unless otherwise noted.