Mariko "Mari" Takahashi
(
高橋真理子
) (born November 2, 1984) was the host of
Smosh Pit Weekly
for all of its original run and the first four months of its revival, rarely appearing in videos uploaded on the main Smosh channel but was the third most associated member of Smosh, behind Ian and Anthony until the addition on the main Smosh cast. She is also a major member of
Smosh Games
, appearing often in other series on the channel as well as on her own show,
Super Mari Fun Time
, now called
MariCraft
.
She competed on the 33rd season of Survivor.
Biography
Mari originally shared Ian's YouTube account IanH (now Smosh Pit) and uploaded videos every Saturday and had her own channel, AtomicMari, where she did not upload videos regularly.
Mari first appeared on Ian is Bored 43, Worst Audition Ever!, where is shown to be able to do the splits in jeans whilst standing up, proving her to be very flexible.
Later on in Meme Schoolgirl! Mari puts her meme knowledge, or lack thereof, to the test as Ian shows her a mixture of famous memes and random images. She initially believes meme to be "a name for your favorite stuffed animal" and only gets one question correct.
"MEME SCHOOLGIRL!" also revealed Mari as the winner of the audition for Smosh's next video series, which would turn out to be Smosh Pit Weekly. She hosted the series ever since its first episode, We Have "Crabs". However, during its run, Smosh Pit Weekly received very mixed reception from viewers, ranging from positive and constructive criticism, to irrelevant compliments and negative responses. As a result, Smosh Pit Weekly episodes gained the most dislikes on YouTube out of all Smosh videos. However starting in August 2011, the later Smosh Pit Weekly episodes gained 90% more likes compared to the earlier episodes.
After Smosh Pit Weekly's discontinuation in 2015, Mari still occasionally appeared in Smosh Pit videos, usually as a guest.
Nearly two years later Smosh Pit Weekly was revived on August 19, 2017 with Mari as the host again. Five months later she was replaced by Shayne Topp and Damien Haas for unknown reasons.
Over time, Mari has become a regular and important member of the Smosh Games cast. She was the only female member of the cast until the addition of Ericka "Boze" Bozeman in early 2017.
Appearances
Mari makes her first appearance in a main Smosh video in Pokemon Theme Song REVENGE. She was the assistant that came running in to the office to tell the CEO that Smosh had made another Pokemon video.
She was also in the video I'M NOT RACIST!!! as one of Ian's two new Japanese friends who had just come from an Elvis convention. She said, "F***ing racist" in Japanese to Anthony.
She was featured in three Lunchtime with Smosh episodes: ASIAN LUNCHTIME! (W/ MARI!), The Reverse Cowgirl! and Teenage Mutant Ninja Smosh!
Mari accompanied Ian in an Ian is Bored video, Crazy Asian Food Test!.
In
AWESOME NEW ROBOT!
, Mari appears as the girl in pigtails in the robot commercial, playing with Ian's character
Billy Hamburger
.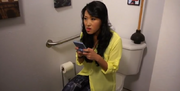 She appears also in
Holy Crap! 2 Billion Views!
 with all the cast of "Smosh Games". She's in the bathroom playing a Pokemon Tournament with a Gameboy Advance SP.
Mari has an appearance in Dixon Cider as one of the background dancers, though she wears less revealing clothes than the other dancers and even performs as a ballerina for a few seconds.
Since Dixon Cider in May 2013, she has appeared in many Smosh brand update videos on the main channel such as The TRUTH about Smosh. She has also played minor and major roles in some Smosh sketches since Dixon Cider such as EVERY GIRLS NIGHT OUT EVER and HOW TO NOT PISS OFF ASIAN PEOPLE.
Personal Life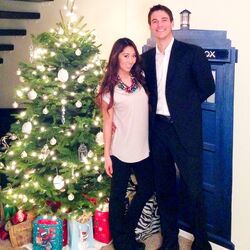 Outside of Smosh commitments, Mari works as a ballet dancer, as explained in one of her Smosh Pit Weekly episodes. This explains her flexibility in her Smosh audition, and there are videos of her demonstrating her talent for dancing on her personal channel, AtomicMari. She sometimes goes on tour with her dance group, as seen in two Smosh Pit Weekly episodes where she filmed in her hotel room. According to her own YouTube channel, Mari has uploaded exerpts of four of her performances. Her videos include her performances for Giselle, No Place to Rest, Musume, and the Nutcracker Suite.
Mari also enjoys rock climbing. According to some pictures, she has been known to climb some slopes without a harness.
Mari also loves traveling, as seen in some of her pictures. According to a Smosh Pit Weekly episode, she always takes her traveling buddy, a monkey doll she calls Silvio, along. She also takes home souvenirs that are made of dead animals, a monkey skull being an example.
She is also on another YouTube series completely separate from the Smosh canon, Ask a Naked Guy. Coincidentally, Ian and Anthony starred in an episode of the series once.
Mari also collaborated with Hidden Fortress for a video, Mari's Shadow.
Mari has been in a relationship with Peter Kitch since 2010. The couple became engaged in April 2017 and kept it a secret for many months. They married April 4th, 2018 with a traditional ceremony in Japan.
Mari also competed on the 33rd season of Survivor, entitled Survivor: Millennials vs. Gen X. She placed 19th.
Trivia
Despite showing numerous videos of herself dancing, doing ballet as a full-time career and even branching out into teaching, Mari believes herself to be an "average" ballet dancer - though she also claims to not let this belief hinder her.[2]

Mari is quite good friends with all of the Smosh Games crew, but she seems to be closest to Ian and Jovenshire, as they and their partners are often seen at each others' social events.
She sometimes hangs out with the Smosh Squad.
Mari is the second oldest member of the Smosh Family, being several months younger than Lasercorn but several years older than Joven, Flitz, Sohinki and Ian (all born in 1987).

She stated on the SGA Live episode "Super Mario Maker w/ Mari & Sohinki" that she and Sohinki were born approximately 10 months apart.

Mari and Joven are both fans of British Sci-Fi Drama Doctor Who, Mari herself even has a TARDIS painted into her living-room wall.
Mari's father appeared in the Maricraft episode "Minecraft Arson with Mari's Dad".
Joven, amongst others, has proved that Mari is easily scared. Two notable examples would be that Joven scared her by hiding under her desk and in Smosh Games Forms a Biker Gang she scared both herself and Flitz by them walking into each other.
She is not a good player of Deadliest Warrior, losing six times in "We Are Not the Deadliest Warriors". She taunted her opponents in Japanese, and Joven replied "I don't speak Spanish". Her gaming strengths are in dancing games, such as Just Dance.
There is running joke/theme about Mari being the most lustful or kinky of the group, for example, in Lasercorn's prop hunt video she was happy to see a hentai picture, did various acts and said certain things in Grand Theft Smosh and hosted a top 5 video called Top 5 Bangable Aliens.

As a result, many fans temporarily believed that Mari was bisexual, but this is probably unlikely as it was just part of the joke.

Up until MARI LEARNS TO RIDE A BIKE (Bonus) Mari never learned how to ride a bike.
MARI LEARNS TO RIDE A BIKE (Bonus) is also the first appearance of her boyfriend, Peter, on the channel.
She seems to be the most easily scared out of the Smosh Games Crew.
In the BTS video for Smosh Live it is shown that Mari teaches the cast the dance for the skit IntergalacWhip.
Mari and her boyfriend, Peter Kitch, married April 4th, 2018 in Japan.
Gallery
References