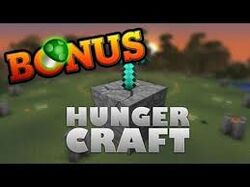 MINECRAFT REVISITED is the thirty-fifth installment for the SmoshGames series I Have a Raging Bonus. Unlike the original Minecraft episode, the players are split up into teams, Team Ball Busters consists of the original Team Condor members from Halo Reach (Ian, Lasercorn, and Jovenshire), while Team Shut up about DOTA consists of Anthony, Sohinki and Kalel (who replaced Mari for the episode since she is pooping, according to Anthony)
3 vs. 3 match
Everyone grabs a chest and run off with their respective teams and they all begin scouring the area for other chests. Sohinki and his teammates attempt to climb a mountain all the way up to a tower. After 5 minutes, Lasercorn, Ian and Joven begin scavenging the chests but when they left, Anthony scavenged a chest. Ian and his teammates enter a tower made of sandstone and find an "awesome sword" called "Rebirth". When they went back to the center, Lasercorn finds Kalel and kills her with Rebirth. Anthony went back to the center but finds Team Ball Busters scavenging the chests again and is attacked by Lasercorn and finished off by Ian. Sohinki attempts to evade Team Ball Busters but is found by Lasercorn and since he drank a Potion of Strength, Sohinki is defeated and Team Ball Busters nab the win without any casualties.
Trivia
Rebirth's "Smite V" effect only works on zombies but the sword still has a "Knockback I" effect.
The title of this episode is likely a reference to the Evelyn Waugh novel "Brideshead Revisited".
This episode carries on (roughly) from after the survival match in Minecraft Hunger Games.
Video
Community content is available under
CC-BY-SA
unless otherwise noted.