Wiki Targeted (Entertainment)
Play Sound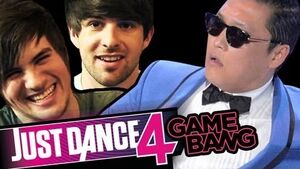 JUST DANCE REMATCH is the twenty-third installment for the Smosh Games series Smosh Game Bang.
It was uploaded on 1st March 2013 on both smosh.com and YouTube.
Synopsis
The Smosh gang have a rematch and show off their skills in Just Dance 4 once more with new songs they've downloaded.
Punishment
Like the 1st Just Dance Game Bang, the 2 people with the lowest scores will have to do a duet dance.
Songs danced to
Sohinki: Katy Perry - Part of Me
Ian: Ke$ha - We Are Who We Are
Anthony: Cobra Starship - You Make Me Feel!
Lasercorn: Sorcerer - Dagomba
Mari: The Girly Team - So Glamorous
Jovenshire: PSY - Gangnam Style
Duet dance: One Direction - One Thing
Note: The song highlighted in bold indicates it was the one song everyone knew was in the hat
Results
1st place: Lasercorn (6584 pts.)
2nd place: Sohinki (6567 pts.)
3rd place: Jovenshire (6485 pts.)
4th place: Mari (5654 pts.)
5th place: Anthony (5156 pts.)
Last place: Ian (3315 pts.)
Trivia
This is the first time a game has been played twice.
This was the first time Mari has been in the bottom three for a Dancing Game Bang

Conversely, it is Lasercorn's first time in the top three

Joven was seen wearing a Just Dance 4 t-shirt in the video.
Some coincidences occured in this episode that also occured in Just Dance 4 Hilarity!

Ian had the lowest scores in both episodes
Ian was the girl avatar in both punishments
Jovenshire received the song that everyone knew was in the hat in both episodes
Jovenshire came 3rd place in both episodes
Just like the first Just Dance Game Bang, another long running gag was started in this episode: "Open Joven Style."

This is the 3rd most viewed episode of Game Bang and the 6th most viewed Smosh Games video overall, with over 5.5 million views