Wiki Targeted (Entertainment)
Play Sound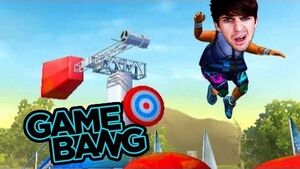 JUMP, BOUNCE, TWERK is the fifty-sixth installment in the Smosh Games series Smosh Game Bang.
It was uploaded on October 11, 2013 on smosh.com and on October 18, 2013 on YouTube.
Synopsis
The Smosh Games crew play Wipeout: In The Zone.
Punishment
Three people with slowest combined times have to do a real obstacle course while being blindfolded.
Courses
Jovenshire
First - 2:23
Second - 2:52
Third - 0:54
Anthony
First - 1:28
Second - 2:09
Third - 0:27
Sohinki
First - 2:56
Second - 1:44
Third - 0:35
Lasercorn
First - 1:45
Second - 2:32
Third - 1:21
Ian
First - 1:51
Second - 1:25
Third - 1:27
Mari
First - 2:24
Second - 1:44
Third - 0:50
Final scores
Anthony - 4:04
Ian - 4:43
Mari - 4:58
Sohinki - 5:15
Lasercorn - 5:38
Jovenshire - 6:09
Trivia
As stated by Joven, at the end of the video, they forgot to record a footage of summing up the scores and announcing the winners and losers. Instead they just put all scores on the screen.
Anthony, Ian, Lasercorn and Jovenshire's accumulated times did not match what was put on the screen at the end of the game (4:07, 4:41, 5:48 and 6:07 respectively). This was either an error in calculation or a mistake on the part of the editor. Luckily, it didn't affect the episode's leaderboard.
At the time this episode was uploaded, Mari and Jovenshire had both lost exactly half of all Game Bangs up to that point (28 of 56).
Up to this point, Mari had become unpredictable as she had recently beat the record for most consecutive losses (with 7) but then managed to have a streak of 3 consecutive wins and was one win off tieing Lasercorn's (then) record for most consecutive wins.

Technically, she did not win 1st place, but it was counted as a joint win.
Since this episode however, she has begun to lose more often again.