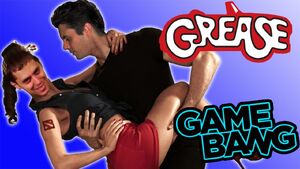 GREASE BANG is the sixty-third installment of the Smosh Games series Smosh Game Bang.
It was uploaded on December 6, 2013 on both smosh.com and YouTube.
Synopsis
The Smosh Games crew go all Greasy as they play Grease Dance for the Kinect.
Punishment
The losers, once again, have to do a duet dance. In this case, one player wears Jovenshire's Elvis Presley inspired leather jacket and the other wears a small pink vest top
Turn order and songs performed
Ian - Rock and Roll Party Queen
Sohinki - Grease is the Word
Jovenshire - You're the One That I Want
Anthony - Look at Me I'm Sandra Dee
Mari - Elvis Presley - Hound Dog
Lasercorn - Summer Nights
Punishment dance: Greased Lightnin'
Results
1st place: Jovenshire - 661,000
2nd place: Mari - 577,000
3rd place: Sohinki - 477,000
4th place: Lasercorn - 376,000
5th place: Ian - 319,000
Last place: Anthony - 243,000
Trivia
This is the first Game Bang where they drew names from a hat, instead of song titles, making the turn order completely random (the said "hat" was infact a socker bopper).
The name "Ian's Mom" was put in the socker bopper but was disregarded as a possible contestant.
This is the third time Ian imitates Chad Kroeger.
This is the second time two people tried to sabotage Mari's score (in this case, Ian and Anthony).
This is the 3rd duet dance Ian and Anthony did together and their 4th punishment together.
This is Jovenshire's 2nd win for a dancing Game Bang, this tied him (at the time) with Mari and Sohinki for most wins in such a category.
The song that Mari danced to was the only song which was previously performed by a popular artist (in this case, Elvis Presley)
In this episode, Ian overtook Lasercorn for the most dancing game losses (while Anthony tied with Lasercorn for 4 losses).
Anthony had the shortest dance, lasting only 1 minute, 36 seconds. This may be a contributing factor to his low score.
This is Anthony's 3rd Last place loss for a Dancing game, this ties him with Lasercorn for both 2nd most dancing punishments and most last place losses in a Dancing game.
Community content is available under
CC-BY-SA
unless otherwise noted.