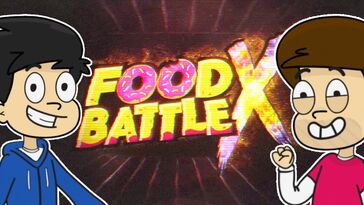 FOOD BATTLE X CARTOONS is a Smosh video released October 13, 2015. It is a compliation of all the smosh.com Food Battle X Cartoons so that fans are able to watch them all vote for which food is the best without having to flip through multiple videos and watch multiple different advertisements to take up more time.
Synopsis
Ian and Anthony interview seven different foods to pick which one they like the best. Even though each interview is odd and has Ian argue against the food and Anthony in almost every video.
The Cartoon Interviews (in order):
Zucchini - Shayne Topp
Edible Cactus - Keith Leak II
Baguette - Chris Bennett
Flan - Courtney Miller
Chocolate-Coated Banana - Galen Howard
Ginger - Noah Grossman
Spaghetti - N/A (although monster roar sound effects are used for him)
Romanesca - Olivia Sui
Community content is available under
CC-BY-SA
unless otherwise noted.