FACE MERGING AGAIN is the 208th episode of Smosh is Bored released March 2, 2015.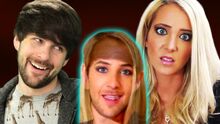 Video Description
We're merging faces again and get some crazy results when we match ourselves with other YouTubers, and YouTubers with movie stars. How do we look smashed together with Markiplier, Sky Does Minecraft, or... Megan Fox?
Community content is available under
CC-BY-SA
unless otherwise noted.