Wiki Targeted (Entertainment)
Play Sound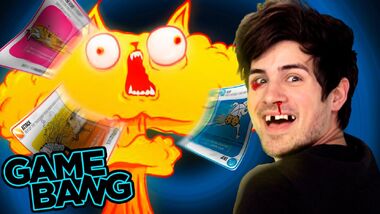 EXPLODING TACO KITTENS FINALE is the 126th installment of the Smosh Games series Smosh Game Bang.
It was uploaded on February 20th, 2015 on both smosh.com and YouTube.
Synopsis
The Smosh Games crew finish the most successfully Kickstarted card game ever, Exploding Kittens.
Punishment
The bottom two losers will have to eat a taco with no hands, in a reference to the crew's favorite card of the game, a taco cat.
Scores
1st place: Flitz (8 pts)
2nd place: Anthony (6 pts)
3rd place: Sohinki (5 pts)
4th place, tied: Ian and Mari (4 pts each)
Last place: Jovenshire (3 pts)
A tiebreaker for second-last place was held between Mari and Ian, which Mari lost.
Trivia
Jovenshire hinted that he may be aware of this wiki's existence when after revealing his score, he announced "Update the Wikipedia, people! Still on a losing streak!" (At the time he was on a four-game losing streak).
This marks Jovenshire's 6th last place spot out of the current seven episodes released in 2015 (Counting this two parter episode)
While eating the tacos, Joven and Mari briefly switched and ate each other's tacos. Afterwards, Mari made Joven sniff her ranch dressing, causing Joven to puke all over his taco and his hand.