Doctor Strange in The Multiverse o Madness - The Loop
Play Sound
"Sup, you filthy f*ckfaces! So, Logan Paul is back in the news again; this time, for dropping an ice cream cone. Now, I'm not gonna take sides here, because what if he just did it as an accident? Now..."
—

Philip DeFranco

on Logan Paul's latest controversy
EVERY YOUTUBER EVER is the eighty-seventh episode of the Smosh series Every Blank Ever. This episode, the Smosh crew imitates various current and common YouTubers and YouTube-related trends, including clickbait, drama, sponsorships, and demonitization.
Released on April 2, 2018, the video was directed by Ryan Todd and written by Ian Hecox, Monica Vasandani, and Ryan Finnerty.
Description
You asked for this! This is one of the most requested Every Blank Evers... ever! Whether it's Logan Paul, slime and unboxing videos, getting demonetized, made up drama, or more - this is Every YouTuber Ever!
Synopsis
Clip 1
A YouTuber named DangerDavey90 (Damien Haas) is talking in a video titled VLOG #81 - GETTING REAL. Davey rhetorically asks what is great about being a YouTuber and explains that it is a platform that one can be themself without compromising morals or artistic integrity, right before getting into "Davey's 2018 Slime Review", in which he directly contradicts his previous statements in every way possible. Davey also announces that, in his next video, he will be doing the "Fidget Spinner Bathtub Slime Challenge", in which he spins fifty fidget spinners in a bathtub of slime. Davey asserts that this is what he loves doing before quietly begging his viewers to "keep watching [him]".
Clip 2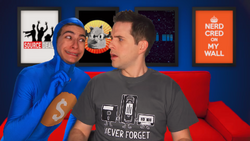 Philip DeFranco (Ian Hecox), in a video titled WOW! Hillary Clinton Back in the News, Syrian Civil War, Biscuit Batter Woman & More, reports that Twitter is "up in a firestorm" about Hillary Clinton, but is interrupted by YouTube Demonitization who states that because Philip is discussing politics, his video is unsuitable for advertisers and is thus demonitized. A dumbfounded DeFranco moves on to talk about updates on the Syrian Civil War but is interrupted by Demonitization again, who states that violence is also against demonitization policy. Demonitization also interrupts Philip's final story about a woman in Nebraska who was caught stealing five pounds of biscuit batter. Philip demanded to know what was wrong with the Biscuit Batter Woman story, but Demonitization was unable to think of a reason.
Clip 3
2006: In the video Ian Answers Fan Questions, Ian answers a question from xxmilkytoastxx, who asks "What's the secret to being successful on YouTube?" Ian explains that one must only make content they are excited about.
2008: In Smosh Answers Fan Questions #23, Ian explains that one must only make content they are excited about, but stresses a regular uploading schedule.
2013: In Smosh Answers Fan Questions #43, Ian explains that one must only make the content they are excited about, as long as they have a good brand and a gaming channel (pointing to a picture of the Smosh Games logo), and mentions that putting "boobs in the thumbnails", mentioning Smosh videos as an example.
2016: Ian explains that one must make content that they are excited about, but exploit YouTube's algorithm, stretch content to ten minutes, and not to put boobs in thumbnails, which he deems a bad idea.
2018: An exhausted Ian states that to be successful on YouTube, simply make a video on Logan Paul.
Clip 4
A self-admittedly unqualified YouTube smartphone reviewer (Keith Leak II) is ending his twenty-minute review of the newest iPhone by concluding that, while not much different from previous models, is superior to the Android and he cannot wait to use it. After the review ends, the reviewer sighs and drops the iPhone into a box labeled "TRASH" filled with similar devices. The reviewer reminds himself that he only has three more devices to "review" for the day. He starts his next review of the newest Android by stating its superiority of the iPhone and how he can't wait to use it.
Clip 5
Corky & Borky (Courtney Miller) is the channel of two identical twins who describe themselves as lacking any discernable talent, but are young and cute, which is something people seem to like. Corky and Borky then get into a giggling fit.
Clip 6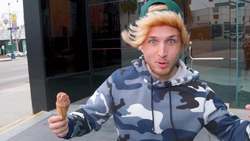 A reporter catches Logan Paul (Shayne Topp), who is walking outside of a Chococream store with a chocolate ice cream cone, and asks Paul for his response to people's reactions to his latest controversy (dangling a baby off the Eiffel Tower). Logan uses this as an opportunity to promote his "Maverick merch", followed by a shout of "Logang!" and a dab. Unfortunately, his dabbing made him drop his hat and ice cream. Logan dabs in disappointment, picks up his hat, and walks away.
The screen fills with headlines and comments of people overanalyzing and wildly reacting to Logan dropping his ice cream. The incident also attracts the attention of YouTube news reporters like Keemstar (Shayne Topp) and Philip DeFranco. Corky and Borky also challenge Logan to a boxing match, lest he be a "little bitch boy". The smartphone reviewer made the claim that since the ice cream was brown, Logan is racist.
Demonitization, after deeming this situation too negative, happily prepares to demonitize Philip DeFranco again. Before he can press the button, Susan Wojcicki (Courtney Miller), CEO of YouTube, stops him and states that all drama videos stay monitized. Susan begins to cackle evilly while pulling out stacks of cash from her suit. The video ends with a shot outside of YouTube's headquarters in San Bruno, CA while Susan is still cackling evilly with an organ playing in the background.
Cast and Crew
Cast
Damien Haas as

DangerDavey90

Ian Hecox as

Philip DeFranco

and himself throughout the years
Noah Grossman as

YouTube Demonitization

Keith Leak II as a

YouTube smartphone reviewer

and a reporter
Courtney Miller as

Corky

,

Borky

, and

Susan Wojcicki

Shayne Topp as Logan Paul and

Keemstar
Crew
Director: Ryan Todd
Writers: Ian Hecox, Monica Vasandani, and Ryan Finnerty
Director of Photography: Billy Yates
Editor:

Nick Agich

Assistant Editor:

Matthew Duran

Senior Producer:

Alex Hluch

Producers: Kristina Nikolic and Garrett Palm
Associate Producer:

Katie Michels

Production Manager:

Andy Garwig

First Assistant Director: Tanner Risner
Production Designer:

Taylor Frost

Art Director:

Keri Palmetto

Camera: Brennan Iketani
Gaffer:

Katie Eleneke

Sound:

Greg Jones

Makeup:

Rachel Jenkins

Costume Designer:

Cassidy Combs

Post-Production Supervisor:

Reed Brice
Reception
Trivia
The thumbnail includes Shayne as Logan Paul between Courtney as identical twins Corky and Borky.
The background used in the smartphone reviewer is the same as the main background in FIRST LOOK: $50,000 iPhone 8 Diamond Edition.
Gallery