Spider-Man: No Way Home Trailer Dropped - The Loop
Play Sound
EVERY DATING APP EVER is the forty-third episode of the Every Blank Ever series. It was released on January 18, 2017. The day after it was uploaded, it had garnered over 1 million views.
Synopsis
Whether it's terrible pickup lines, lying about your age, or more, this is Every Dating App Ever!
Scenes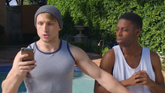 Scenario 1: Shayne and Keith are speed walking outside when Shayne stops Keith to show him his match on Tinder. He will ask her to have sex and if she refuses, he plans to tell her she is fat. Keith agrees with his plans, but the look on his face may say otherwise.
Title appears. As with all Every Blank Evers, the title appears between each scenario.
Scenario 2: A young woman named Carrie (Courtney) is seated at a diner when Michael (Keith), old man with a small cough and hoarse voice slides into the booth, surprising her. He looks different than his picture, and he admits he lied about his age. She is aghast that he looks younger than the picture. It turns out she only wants to date men that can get the senior discounts, not wanting to pay full price for the meal and haughtily leaves him. Michael is glad she did not call Catfish on him and after a brief moment, exits the booth.
Cast