Wiki Targeted (Entertainment)
Play Sound
"And my jimmy runs deep / So deep / So deep / Put her butt to sleep"
—Ian rapping to "It Was A Good Day" by Ice Cube
EPIC SMOSH RAP BATTLE is the 8th episode of Game Bang. It was released on November 16, 2012.
Description
Ever wonder if the Smosh Games crew could rap? Well here ya go!
We are playing Def Jam Rap Star and the losers will have to do a freestyle rap battle
Game Bang
Rules
The Smosh Games crew takes turns rapping songs in the rapping game Def Jam Rapstar. Unlike the previous music-related Game Bang, each person chooses the next person's song. The two with the lowest scores will have to enter a freestyle rap battle against each other, while the person with the third-lowest score provides a beat.
The turn order is Ian first, Lasercorn second, Sohinki third, Jovenshire fourth, Mari fifth, and Anthony last.
Results
Note: Anthony misread Mari's score as 158,699, so he mistakenly ended up providing the beat in the punishment rap battle, believing he was in 4th place with 7 fewer points.
Punishment
"In the left corner, we have The Jovenshire! In the right corner, we got So-Kinky!"
—Anthony announcing the contestants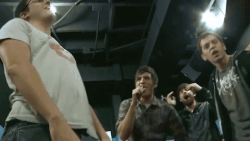 The ones with lowest and second-lowest scores (Jovenshire and Sohinki, respectively) must enter into an "improv" (improvised) freestyle rap battle against each other. The person with the third-lowest score (Anthony) acts as the announcer and the beatboxer.
Jovenshire:
I'm the Jovenshire, I run this empire
I'm not worried about you down there, Sohinki, 'cause you're so dinky!
Sohinki:
Forget Lasercorn, Forget Jovenshire
I don't even know how the f**k he got hired!
Jovenshire:
I've got the Joveknights, with all bark and bite
What do you have, the Sohinki Army? All you have is an army of Barbies!
Sohinki:
Let's see what strength this guy can muster
What do you got on your shoes, some f**king mustard?
Who do you think you are, a f**king hustler?
Forget a ghost, this guy's just a buster!
| Achievement | Won by | Timestamp |
| --- | --- | --- |
| Make The Police Raid Ice Cube's House | Ian | 1:49 |
| Get The Worst Score Even Though You Know The Song | Sohinki | 5:30 |
| Make Up Your Own Lyrics | Jovenshire | 7:16 |
| Make Up More Of Your Own Lyrics | Mari | 8:45 |
Trivia
The order of turns for this episode was exactly the same as ANTHONY GOES SHIRTLESS WITH JILLIAN MICHAELS and JUST DANCE 4 HILARITY!
Despite receiving a low score, Sohinki was credited to have performed his song the best, and received a standing ovation from the other five players after his turn.
While Anthony was announcing the scores, his mistakes were caught during editing, as evidenced by on-screen comments like "690+9?" and "(actually +2 points)".
Sohinki's last line in his freestyle is a reference to Joven's Ghostbusters shirt.
The title is likely a nod to Peter Shukoff and Lloyd Ahlquist's YouTube series Epic Rap Battles of History, where Ian and Anthony would later go on to be guest stars.