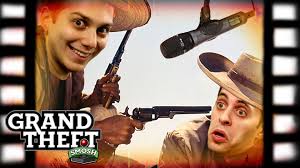 EPIC MOVIE NARRATION (Grand Theft Smosh) is the 94th installment of the series Grand Theft Smosh. It was uploaded on July 30, 2015 and guest starred Jon Bailey from Honest Game Trailers.
Synopsis
The Epic Movie Voice Guy, Jon Bailey stopped by to blow sh*t up and narrate our shenanigans turning it into a real-time movie trailer. When you have an epic narrator, you have to do epic stuff... like a cowboy duel on a skyscraper!
Voiceover Narration by Jon Bailey: http://youtube.com/jon3pnt0
Join the guys of Smosh Games every Thursday as they play through Grand Theft Auto V online. Each week a new adventure, each week more mayhem.
Fan Interaction
Epic Movie Guy commented twice:

His first comment was: 'Yay!' It received over 130 likes.
His second comment was: 'Most fun I've ever had. :) Fans, demand more!' It received over 20 likes.
Community content is available under
CC-BY-SA
unless otherwise noted.