EPIC CHEESE CHALLENGE! (Put it in My Mouth) is the third episode of Put it in My Mouth released September 26, 2015. This episode guest stars Joven and Flitz.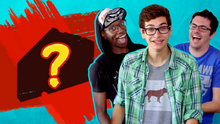 Video Description
Flitz and Joven from Smosh Games join Noah as they attack a challenge that's 7 cheeses long! This isn't your typical mild cheddar or string cheese. We're talking beautiful, smelly, moldy cheese! Will he be able to stomach them or hit the bucket of shame?
Join Noah for PUT IT IN MY MOUTH, every other Saturday at Noon PST as he tries to conquer his fear of pretty much every food that isn't hot dogs. Each guest will join him in eating something new from around the globe! Will he be able to keep it down!?
Community content is available under
CC-BY-SA
unless otherwise noted.