Wiki Targeted (Entertainment)
Play Sound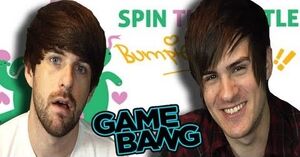 EAR LICKING GOOD TIME is the fifty-first installment in the Smosh Games series Smosh Game Bang.
It was uploaded on September 6, 2013 on smosh.com and on September 13, 2013 on YouTube.
Synopsis
The Smosh Games crew play Spin the Bottle: Bumpie's Party for Wii U.
Games
Game 1: Sohinki and Anthony
Drill (to spin around together)
Game 2: Jovenshire and Ian
Game 3: Mari and Lasercorn
Rabbit Hunt (hiding and finding remotes)
Game 4: Sohinki and Anthony
Circus Act (to hold remote behind other's back and jump together)
Game 5: Jovenshire and Mari
Game 6: Lasercorn and Mari
Balance Challenge (sit down fully and get up while holding remotes with open palms)
Game 7: Sohinki and Ian
Jumper (one person watches the screen tells the other when to jump)
Result: Fail
Game 8: Jovenshire and Ian
Pass the Badger (pass the remote over each other's head and through each other's legs)
Game 9: Anthony and Lasercorn
Blind Dog (one person is blindfolded and the other one tells how to get the remote behind his back)
Results
Anthony (3 successes)
Lasercorn, Jovenshire, Mari, Sohinki (2 successes)
Ian (1 success)
Despite those results, Lasercorn was announced winner along with Anthony who had the best score.
Punishment
The original punishment was that the two lowest scoring people have to spin the real bottle and lick someone in the earlobe but as Anthony and Lasercorn were announced winners, there were 4 losers and punishment was changed so those 4 would spin the bottle and lick someone in the earlobe. Joven was pointed by the bottle three times so because of lack of ears, they made Mari lick his nipple.
Trivia