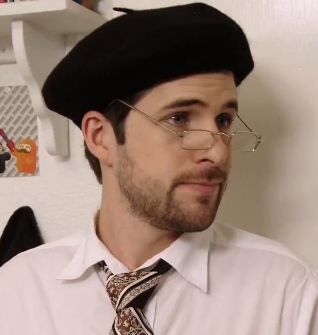 Dr. Drew Peacock is a minor character in the Smosh series who made two appearances in The Harry Potter Pill and I'M POSSESSED! In the two videos he appeared in, he is portrayed by Anthony in the former and Ian in the latter.
Oddly enough, he's played by both lan and Anthony in two different videos. Whether or not the Dr. Drew Peacock in both videos is the same person is unknown.
Biography
The Harry Potter Pill
The Dr. Drew Peacock in this video was played by Anthony. In this video, Dr. Peacock is a part of the FDA. Dr. Peacock had a gun to his head to tell the audience that the Potter Pill is FDA approved.
I'M POSSESSED!!!!!!!
The Dr. Drew Peacock played by Ian is a well known exorcist that Ian calls to expel the demon from Anthony. His exorcism method is very extreme but effective. What he does is that he takes a pill to kill himself so that his spirit can fight the demon. The person then must give him an antidote within five seconds to revive him or he will be permenantly dead. However, when he explains this to Anthony, he never notices that Anthony was wearing headphones and didn't listen to any of his instructions. Anthony never gives him the antidote and leaves Dr. Drew Peacock to die. Ian and Anthony mourn the lost of the man, constantly shouting out things like "this was my first experience with DREW PEACOCK, what is this world gonna do without DREW PEACOCK inside it", and "rest in peace you old, hairy DREW PEACOCK". However, Anthony notices that his body already begun to decompose so he thought they shook take him away. Anthony would take the head, while Ian would handle the shaft (the crotch).
Trivia
Dr. Drew Peacock's name is a play on words of "droopy cock."
The Dr. Drew Peacock in I'M POSSESSED! seems to have a hatred for Justin Bieber, or at least Bieber's hair, since he angrily tells Ian to leave the room because he says that he can't perform an exorcism with a "Bieber haircut" in the room.
The pill that Dr. Drew Peacock I'M POSSESSED! uses to kill himself is the Potter Pill, which is relevant because in The Harry Potter Pill, he was apart of the FDA and approved the product (being played by Anthony), and being played by Ian, he is now an exorcist and kills himself with the Potter Pill to perform his version of an exorcism, probably showing the use of the product he approved.
In iPhone 5 REVEALED, he called Billy Hamburger's Mom's IPhone 5. His pictorial icon was Oishi Kawaii
Community content is available under
CC-BY-SA
unless otherwise noted.