House of the Dragon Trailer - The Loop
Play Sound
Courtney Ruth Miller (born June 19, 1995) is an American YouTuber, actor, writer, and director. She first appeared in The Mother's Day Rule video as Ian's sister, and was first introduced to the Smosh Family in the video Hand Bomb, along with Shayne Topp. She was inducted into the Smosh recurring cast in mid-2015.
Courtney hosted Smosh's Seriously Super Stupid Sleepover with Olivia Sui on the Smosh 2nd Channel, replacing Mari's former show Smosh Pit Weekly from September 2015 to May 2017. Courtney got her start in the public eye when the began posting on Vine. Through the platform she met Olivia Sui, who convinced her to audition for Smosh, and ultimately got her the job. Courtney began posting Vine videos in the video service's first year, 2013, and stopped by its shutdown, in 2016.
On July 28, 2017, it was announced in the video What's going on with Smosh?! that she and Olivia Sui would again be hosting a series together, this time called Whoa! Nature Show. The show premiered on the 16th of the next month.
Smosh Credits
Writer
| Video | Released |
| --- | --- |
| EVERY PUBERTY EVER | January 8, 2018 |
| EVERY GAME STORE EVER | January 22, 2018 |
| If People Were Anime! | January 24, 2018 |
| EVERY ELEVATOR EVER | January 29, 2018 |
| EVERY FOREVER 21 EVER | February 5, 2018 |
| IF MOVIES WERE GENDER SWAPPED | April 4, 2018 |
| VIDEO GAME ITEMS IN REAL LIFE 3 | May 9, 2018 |
| If People Were Anime 2! | May 23, 2018 |
| EVERY INSTAGRAM CELEBRITY EVER | July 2, 2018 |
| EVERY SUMMER JOB EVER | July 9, 2018 |
| EVERY FACEBOOK EVER | July 16, 2019 |
| HOW TO BE FAMOUS ON YOUTUBE | July 18, 2018 |
| EVERY CAMPING TRIP EVER | July 23, 2018 |
| IF FAIRY TALES WERE MODERN DAY | July 25, 2018 |
| EVERY 7-ELEVEN EVER | September 10, 2018 |
| EVERY ANIME EVER | September 17, 2018 |
| TEENS VS 20s | February 4, 2019 |
| EVERY FOOD DELIVERY EVER | February 11, 2019 |
| 2019: EXPECTATIONS VS REALITY | March 8, 2019 |
| EVERY DOMINO'S EVER | March 25, 2019 |
| EVERY INSTAGRAM STORY EVER | April 8, 2019 |
| IF MARVEL CHARACTERS WERE REAL | April 15, 2019 |
| HOW TO FLEX | April 29, 2019 |
| ONE LETTER OFF YOUTUBERS | May 27, 2019 |
| EVERY ROAD TRIP EVER | July 29, 2019 |
| The Truth About GIRLS | August 21, 2019 |
| EVERY HANGOVER EVER | September 2, 2019 |
| EVERY COUPLE EVER | September 9, 2019 |
| Every Hot Topic Ever | September 16, 2019 |
| Every Spa Ever | September 23, 2019 |
| Every College Party Ever | September 30, 2019 |
| Every Sephora Ever | October 7, 2019 |
| If Movies Were Real 6 | October 28, 2019 |
| The Truth About Tik Tok Eboys | December 23, 2019 |
| If Instagram Were Real | February 17, 2020 |
| Every Vlog Ever | March 2, 2020 |
| Every TikTok Ever | March 16, 2020 |
| Every Quarantine Ever | March 23, 2020 |
| How To Spring Break (Quarantine Edition) | March 30, 2020 |
| Every School Cafeteria Ever | April 8, 2020 |
| David Dobrik Shoots a Fan's Eye Out, Mr. Beast Hates Us, and Some Good News - GDFN | April 29, 2020 |
| How To Go Viral | May 13, 2020 |
| Kanye Runs For President, Cancel Party of the Week & Wear a Damn Mask - GDFN | July 8, 2020 |
| Smosh Hosts The News: TikTok Gets Banned?! | August 5, 2020 |
| Every Drive Thru Ever | August 10, 2020 |
| Let's Talk About Area 51 (Meme Academy) | August 12, 2020 |
| We Make a Chuck E Cheese Training Video Funny | August 19, 2020 |
| The Worst Speed Dating Show (Smosh of Love) | August 24, 2020 |
| Every Dating Show Ever (Smosh of Love) | August 26, 2020 |
| Home School vs Public School | August 31, 2020 |
| Email Fight in Real Life! | September 23, 2020 |
| Every Movie Night Ever | October 26, 2020 |
| Every High School in 2020 | November 2, 2020 |
| Every YouTube Couple Ever | November 30, 2020 |
| If Influencers Had Real Jobs | February 15, 2021 |
| Video Games in Real Life | March 22, 2021 |
| Drunk Me vs. Sober Me | April 19, 2021 |
| Every Dating Profile Ever | April 26, 2021 |
| With Your Friends vs With Your Family | May 17, 2021 |
| Online vs IRL | June 28, 2021 |
| Courtney's Boyfriend Reveal! | August 4, 2021 |
| TikTok In Real Life | September 6, 2021 |
Director
| Video | Released |
| --- | --- |
| EVERY PERIOD EVER | May 6, 2019 |
| The Truth About Tik Tok Eboys | December 23, 2019 |
| Every TikTok Ever | March 16, 2020 |
| Every Quarantine Ever | March 23, 2020 |
| If Animal Crossing Were Real | April 6, 2020 |
| Tiger King 2: Tigger King | April 13, 2020 |
| Every Online Class Ever | April 20, 2020 |
| The Most Annoying Kid is in Quarantine | April 22, 2020 |
| Spicy Noodle Challenge (Parody) | May 6, 2020 |
| Every Quarantine Graduation Ever | May 11, 2020 |
| How To Go Viral | May 13, 2020 |
| 30 Year Old On TikTok Gets Cancelled | May 27, 2020 |
| Every Self Care Day Ever | June 1, 2020 |
| Every Insomniac Ever | June 15, 2020 |
| Every Postmates Ever | June 22, 2020 |
| The Secret Rules of Instagram | June 24, 2020 |
| Every Drive Thru Ever | August 10, 2020 |
| Every Barbecue Ever | August 17, 2020 |
| Home School vs Public School | August 31, 2020 |
| Email Fight in Real Life! | September 23, 2020 |
| Influencers Partying without Masks (Internet Detention) | October 21, 2020 |
| Every YouTube Couple Ever | November 30, 2020 |
| Addison Rae isn't real? | January 25, 2021 |
| Jake Paul vs Logan Paul (When Brothers Fight) | February 22, 2021 |
| Video Games in Real Life | March 22, 2021 |
| Drunk Me vs. Sober Me | April 19, 2021 |
| Every Dating Profile Ever | April 26, 2021 |
| With Your Friends vs With Your Family | May 17, 2021 |
| Every Disney Channel Show Ever | May 24, 2021 |
| Every Wendy's Ever | June 7, 2021 |
| Online vs IRL | June 28, 2021 |
| Every Local News Ever | July 19, 2021 |
| TikTok In Real Life | September 6, 2021 |
| Every Pizza Hut Ever | September 13, 2021 |
| Every Krispy Kreme Ever | October 11, 2021 |
Producer
Trivia
Life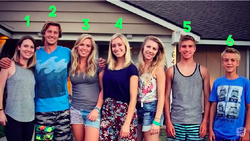 Personality
Smosh
Other
Gallery
References