Wiki Targeted (Entertainment)
Play Sound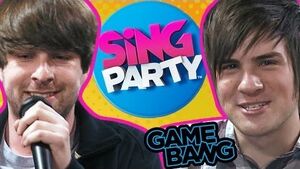 COVER YOUR EARS, WE'RE SINGING is the twenty-fifth installment for the SmoshGames series Smosh Game Bang.
It was uploaded on 15th March 2013 on both smosh.com and YouTube.
Synopsis
The Smosh gang sing it out on Sing Party for the Wii U.
Turn order and songs performed
Jovenshire: Carly Rae Jepsen - Call Me Maybe
Sohinki: Queen - Don't Stop Me Now
Ian: Nickelback - How You Remind Me
Lasercorn: B-52's - Love Shack
Mari: The Darkness - I Believe in a Thing Called Love
Anthony: The Wanted - Glad You Came
Final score
1st place: Anthony (79,328)
2nd place: Ian (77,415)
3rd place: Sohinki (75,715)
4th place: Mari (61,559)
5th place: Lasercorn (50,863)
Last place: Jovenshire (28,377)
Punishment
Whoever got the lowest score would have to sing Baby by Justin Bieber. At the end of the game, it was also decided that the loser would have to wear a Bieber wig AND the Dress of Shame.
Trivia
The full version of Ian singing "How You Remind Me" was posted as a I Have a Raging Bonus video called Ianback Sings How You Remind Me.

The idea to have it as a bonus video was suggested by Sohinki, leading Ian to joke "If you want your ears to bleed and pop excessive boners".
Ian singing Nickleback was voted by viewers as the 4th funniest moment in the first year of Smosh Games in Top 5 Funniest Moments of Smosh Games

This episode was the first to use the recurring gag of Ian imitating Chad Kroeger when he sings (in later episodes it would usually be on command from Anthony).
Lasercorn had originally given the other players a choice as to whether he should do YMCA or Love Shack, all of whom decided on Love Shack

Towards the end of his turn however, he was wishing he'd done YMCA instead.