Wiki Targeted (Entertainment)
Play Sound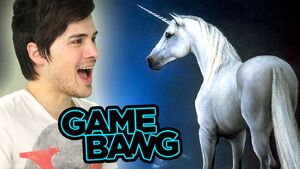 CLOP MAKES US ALL LITTLE PONIES is the eighty-second installment of the Smosh Games series Smosh Game Bang.
It was uploaded on April 18th, 2014 on both smosh.com and YouTube.
Synopsis
The Smosh Games crew play Clop.
Punishment
The player who achieves the shortest distance will have to act as a horse for the winner (with the farthest distance) who will ride him/her.
Order
Ian
Sohinki
Anthony
Mari
Lasercorn
Jovenshire
Results
Ian, Sohinki and Anthony got around the same distance so they called it a tie and in the end they won together. Mari didn't make it to the rock where Ian, Sohinki and Anthony lost but got average distance. Lasercorn got the worst distance though they had to check the footage to decide if it was Lasercorn or Jovenshire who actually lost. In the end, Jovenshire got even better distance than Mari. The standings for this episode would be:
=1st place: Ian
=1st place: Sohinki
=1st place: Anthony
4th place: Jovenshire
5th place: Mari
Last place: Lasercorn
Trivia
Lasercorn claimed he would be able to win due to his communication with unicorns, yet he ended up as the loser.
This episode ended Lasercorn's 4-episode winning streak, as well as Ian, Mari and Jovenshire's losing streaks.
This was one of three games that Mari and Joven had previously played on Super Mari Fun Time video "Pew Pew the Poo Poo".