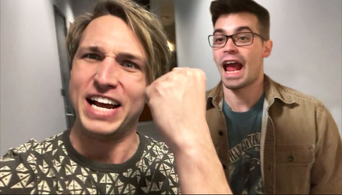 CALLING OUT LOGAN PAUL, JAKE PAUL, JENNA MARBLES, AND THE REST OF YOUTUBE! 
is a February 10, 2018 episode of
Smosh Pit Weekly
that was hosted by
Shayne Topp
,
Damien Haas
and
Ericka Bozeman
. Their producer
Josh Mattingly
can be heard behind the camera giving them twitter topics.
Synopsis
We call out Logan Paul, Jake Paul, Jenna Marbles, and the rest of Youtube!! We dish out Youtube drama plus a whole lot more, including Boze's reaction to the Venom trailer, and personal news from Shayne and Damien! It's Smosh Pit Weekly!
Callouts
Game Grumps
Markiplier
Jenna Marbles
Pewdiepie
Phillip DeFranco
Questions
Who would you like Shaymien to fight?
What else needs cheese injected into it?
Who's lonelier: Starman orr Damien?
Community content is available under
CC-BY-SA
unless otherwise noted.